{"dragByHandle":true,"dragByBody":false,"cssSelector":"ql-thumbnail","widgetClass":"OverlayWidget","bindings":{"bind0":{"element":".ql-thumbnail .Quicklook .trigger","type":"quicklookselected","fn":"function(){$.fnProxy(arguments,\'#headerOverlay\',OverlayWidget.show,\'OverlayWidget.show\');}"}},"effectOnHide":"slide","effectOnShowOptions":"{}","effectOnHideOptions":"{}","closeOnBackgroundClick":true,"effectOnShowSpeed":"1200","onScreenPadding":10,"allowOffScreenOverlay":false,"captureClicks":true,"effectOnShow":"slide","effectOnHideSpeed":"1200"}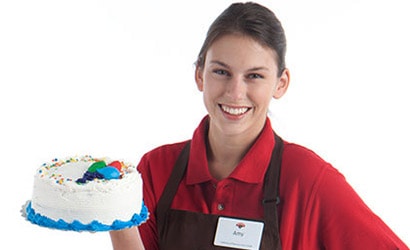 Bakery
Welcome to the sweet spot
From our custom–decorated cakes & decadent desserts to our award–winning muffins and oh–so–irresistible crusty breads, there's satisfaction in every bite from the Hannaford Bakery.
Our top picks for the best of the bakery…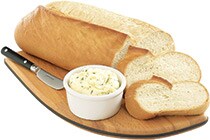 Italian and Garlic Bread
Thin, crisp crust, a soft and chewy interior, and a wonderfully mild flavor make our Italian bread perfect for almost any meal, especially Mediterranean–inspired dishes. We like it warmed or toasted and served with unsalted butter or a little olive oil to dip it in. It's the perfect bread for dipping in pasta sauces and flavored oils.

Our prepared garlic bread takes our Italian loaf to a whole new level. Available in white or wheat, we spread an ample amount of our specially seasoned (and incredibly good) garlic butter on for you. All you need to do is warm it in the oven.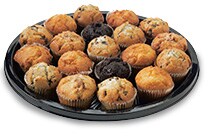 Award–Winning Muffins
We don't mean to brag (well, OK, we do), but our muffins have a reputation for being well above and beyond your average supermarket muffin… in fact, they've won multiple awards and satisfied many an early morning sweet tooth over the years. Choose from our variety of pumpkin, blueberry, cranberry–orange, butter rum, lemon–poppy seed, chocolate chip and cinnamon chip – and watch for special seasonal flavors, too. They're great at room temperature or cut in half, toasted and smeared with just a touch of butter. Our fresh–baked muffins also make a perfect treat for office breakfast or brunch parties.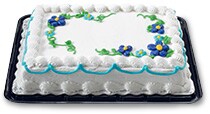 Custom–Decorated and Just Plain Decadent Cakes
If you haven't tried our cakes, you haven't tasted heaven. Sweet, light and moist, our sheet cakes come in vanilla, chocolate and marbled flavors. We offer two delicious icings: traditional sugar icing that's sweet and smooth or best cream that's delicate and creamy but lower in calories. We do not use trans–fats in either frosting choice. The great thing about these cakes is that you can have them decorated any way you like.

For something different, try one of our dessert cakes, like the smooth and zingy lemon mousse, our rich and creamy chocolate mousse, or delicate espresso tiramisu. Or you might want to try a mouthwatering cheesecake: New York style, white chocolate raspberry, or caramel turtle. They're all amazing and perfect for gatherings and parties.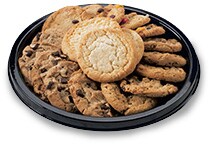 Gourmet Cookies
These dense and chewy treats have just the combination of crisp edges and dense, chewy interior – so every bite is perfect. Choose from the loaded, rich chocolate chunk to the aromatic oatmeal raisin to the cookie of the season. Pick up a platter of our gourmet cookies to share with family and friends or take to your next office party. Or pack one or two in a lunch.