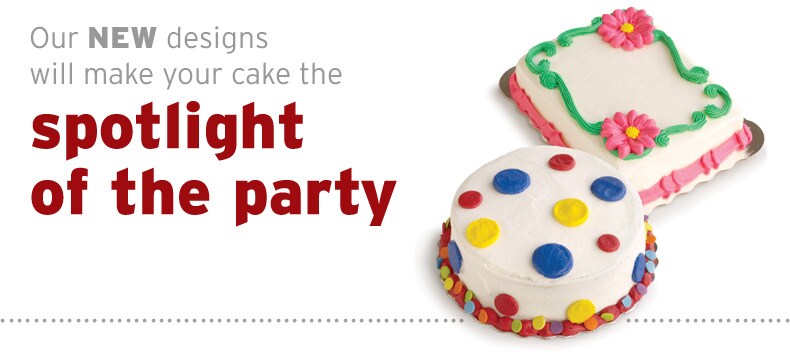 Now you can choose from great new designs and new photo cake options on your favorite fresh-baked Hannaford cakes!
All our cakes are made with the highest-quality ingredients that are all trans-fat free. We carry a traditional buttercream and bestcream icing, which is a lighter whipped topping. We always make a perfect cake especially for you that tastes and looks great!
Colorful Party Spotters
Make your cake the spotlight of the party. Custom designing your own cake can be fun, easy and personalized. With our new designs, you'll have even more choices to be creative with.
Celebrate Sporting Events

Support your local sporting events and fund-raisers or serve up something sweet when you watch the next big game with custom cakes showing footballs, goal posts, baseballs or soccer balls – the choices are endless.

NEW! Photo Imaging Graduation Cakes

The sky's the limit as far as personalized designs go. Choose icing colors that show your school spirit. Have your graduate's baby picture, senior picture or a great graduation photo taken from the event printed in frosting right on top of the cake. Just bring the photo when you place your order (at least 24 hours before your event), and our bakery experts will do the rest.
TWO great ways to custom order your cake
1) Visit your store.
Being involved in the design of your cake can be fun. You can choose from standard icing colors and design options, but custom colors can be developed just for you. If you have your party napkins already, you can bring one in and our experts will match your colors or build a color theme around your napkins. Make your cake even more personal by bringing in a photo and having it transformed into an edible icing photo right on the cake! Looking for fresh ideas? Just ask our bakery experts for some suggestions.
2) Phone it in.
Get personal attention and feel free to ask for recommendations while you're on the phone with our bakery experts. They'll ask all the right questions to create the perfect cake for you. You can discuss color options and personalize a message on the cake. Then pick up the cake in-store on the day of your event.