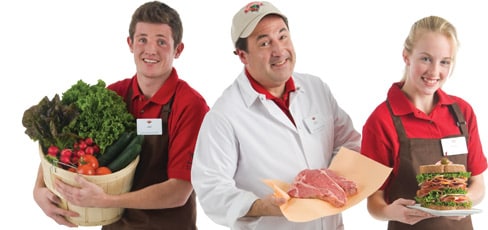 Community Giving
Hannaford is part of the community and our associates are your friends & neighbors
We're proud to play an active role in improving the quality of life in the communities we serve. We provide financial and other forms of support at the local, regional and corporate levels, to eligible non–profit organizations.
Donation Requests
Local Store Support
Is your organization seeking a $25 gift card to use as a raffle item at your next fundraising event? Do you need a gift basket as a door prize, spaghetti for that spaghetti supper or cups and napkins for your event? All requests for local support valued at $100 or less should be addressed to the Store Manager at your local Hannaford.
Use our store locator to find your nearest Hannaford Supermarket.
Regional or Corporate Donation/Sponsorship Requests
Requests for support greater than $100 should be entered via the web application link below.
Please review the following criteria before applying:
All donation and sponsorship requests must be submitted through our online application form (see "Apply Now" link below). We cannot accept requests received via U.S. mail, fax, or email.
For requests to support scheduled events, we require that applications be submitted at least eight (8) weeks prior to the event.
For your request to be considered your organization's focus and event (if applicable) must fall under one or more of our priority giving areas: health and wellness, child development and families, and/or hunger relief.
We ask that each organization submit no more than one request per calendar year. This allows us to support as many qualifying non–profit organizations as possible throughout our 5–state service area. If you have more than one fundraising event you would like us to choose from, our on–line application will require you to submit separate proposals for each event. If your request is for program support, and your organization has multiple programs you would like us to consider, information for all programs can be submitted on one request.
We work diligently to respond to all requests as quickly as possible; however responses to your request may take up to three weeks.
Unfortunately, we cannot support all requests that we receive. Please click on the "Requests We Cannot Support" tab below to review a list of request types that we will decline.
What are the guidelines for giving?
Hannaford limits event and sponsorship support to the five states where we operate: Maine, Massachusetts, New Hampshire, New York and Vermont. Organizations focused on health and wellness; child development and families and/or hunger relief receive our strongest consideration.
When should I submit my request application?
We require requests to be submitted through this Hannaford.com-based application at least eight (8) weeks prior to your event.
Can I submit by fax or email?
No. Event or sponsorship applications cannot be considered until they have been submitted via this site. Once submitted, you will receive an email acknowledgment of the application to let you know that it has been received.
When will I receive a response?
We will respond within three weeks.
Who can I contact with questions?

Maine and New Hampshire Community Relations Contacts:
Massachusetts, Vermont and New York Community Relations Contacts:
Because Hannaford focuses on charitable efforts, we do have specific requests we are not able to support. These include:
Solicitation on our premises. Hannaford does not permit leafleting, selling candy, cookies, flowers, etc. on our property by any organization for any purpose. We can, however, consider a donation in lieu of solicitation.
Individuals: however, we do give to non–profit agencies that help individuals.
Requests from faith–based agencies for religious purposes; we can consider humanitarian aid, such as food for people in need.
Educational Scholarships: we focus our support on our Hannaford Charitable Foundation scholarship fund for associates and their dependents.
Third party donations. We seek to make donations directly to charities instead of going through another organization.
Professional development seminars and conferences.
Political organizations or lobbying groups.
Travel expenses.
Adult non–professional sports teams.
Pageants.
Private clubs.
Any organization or event outside our marketing areas, national or international.
Any organization that discriminates on the basis of gender, race, ethnicity, religion, and/or sexual orientation.
Golf tournaments.
Celebratory events defined as galas, carnivals, festivals, fairs, etc..