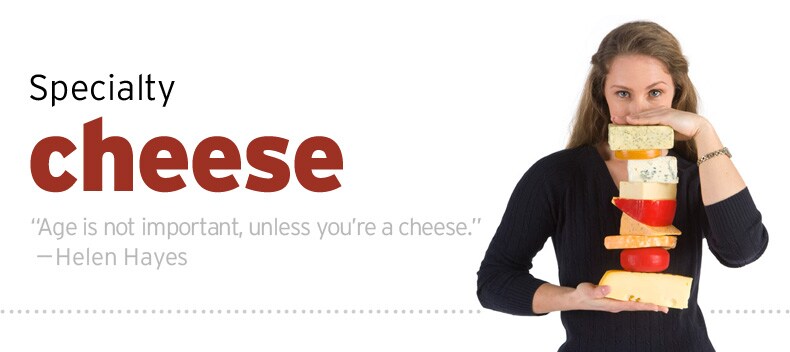 Chèvres from small local farms, savory Saga Blue, decadent Double Gloucester… with so many delicious varieties available domestically and from around the world, how do make your selection? At Hannaford, our specialty cheese variety features cheeses for every occasion, from mild to sharp, creamy to hard and mellow to rich.

Cheese A to Z >>
See Our Wine & Cheese Pairing Brochure >>

Cheese Talk

Ever wonder exactly what little Miss Muffet was eating on that tuffet of hers? Or why some cheddar is orange and some is white? Choose cheese more knowledgably with these essential vocabulary terms and see our serving tips too!

| | |
| --- | --- |
| aged | a cheese that has been cured longer than six months; typically has fuller, sharper flavor |
| annatto | yellow-orange natural vegetable dye added to some Cheddars |
| baby | a smaller quantity of cheese; a mini-wheel or cylinder-like shape |
| bloomy rind | edible cheese rind covered with a harmless, flavor-producing white Penicillium mold |
| brine | a salt-and-water solution in which some cheese varieties are washed or dipped during the cheesemaking process; feta is packed and stored in brine. |
| buttery | a descriptive term for cheese with a high fat content, such as the double and triple creams |
| chèvres | the plural form of the French word for goat; used to classify all goat cheeses |
| consistency | the degree of hardness or softness of cheese; classifications include soft, semi-soft, semi-firm, firm and hard |
| curd | curdled milk from which cheese is made |
| eye | a hole within cheese caused by trapped gas as a result of fermentation during the curing process; typical of Swiss-type cheeses |
| fondue | a Swiss dish often made with melted cheese |
| grana | the Italian term for hard-grating cheese |
| piquant | a cheese with an appealing sharpness, flavor or aroma |
| rennet | an extract from calves' stomachs that contains rennin, an enzyme that aids in separating curds from whey |
| rind | the outer surface of cheese |
| whey | the thin, watery part of milk that separates from the coagulated curds during the cheesemaking process. |

Serving suggestions

A morsel savored by itself, with bread, crackers and fruit, or lending a savory note to 1001 recipes, cheese can be enjoyed in a variety of ways.

When serving a variety of cheese, as a general rule you should start with milder varieties, like Brie, before serving the more pungent sharps and blues. The sharper cheeses will numb your taste buds to the delicate flavors of their milder cousins.

Depending on the variety, cheese can be particularly sensitive to its environment. When serving, you should observe a few simple rules:

To ensure full flavor, gourmet cheese is best served at room temperature. (The harder the cheese, the longer it takes to reach room temperature.)
Plan on 3-5 ounces of cheese per guest.
Always arrange cheese on a flat, sturdy board instead of a dish for easy cutting. If you plan on serving different cheeses, do so on different boards to keep their aromas intact.
Leave unrefrigerated cheese wrapped.