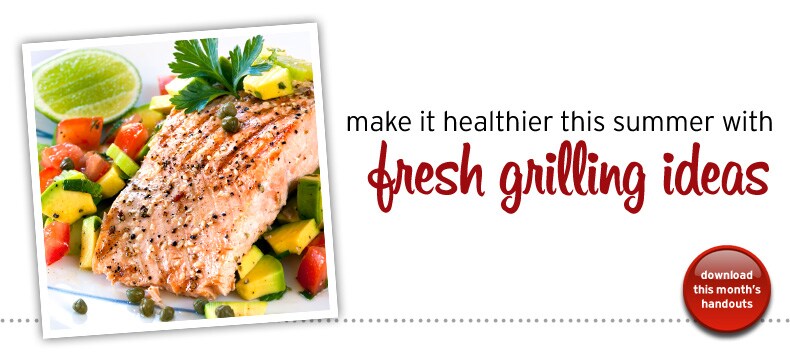 Fire up the grill and enjoy healthy eating!

Hannaford is here to help you become the master of your grill and your health, whether you're looking for new grilling tips, healthy marinade ideas, or food safety facts. Everyone loves a good BBQ, but a traditional BBQ feast can easily exceed our calorie budgets – not to mention the high proportion of saturated fats. Luckily, grilling has plenty of healthy options for a lighter fare.

Healthy Lean Proteins

Nothing beats cooking your favorite meats and poultry on the grill, and Hannaford makes it easy to choose healthier cuts with Guiding Stars®. Look for the Guiding Stars logo on the package: one star is good, two stars are better, and three stars are best.
Your Hannaford butcher can help you select healthy lean proteins and custom cut steaks, roasts or chops to your liking, and we'll even add special spice rubs to any purchase for FREE!

Quick Tips for Finding Leaner Proteins

Hamburgers:

Use 90% or 95% lean ground beef.
For a leaner burger, use 90% or leaner ground turkey.
Want a vegetarian alternative? Try veggie or black bean burgers – all the taste without the extra fat.


Hot Dogs & Sausages:

Try tofu hot dogs.
Use lean poultry sausages like our Nature's Place® Italian Chicken Sausage or soy sausages.


Chicken:

Marinate skinless chicken breasts – less fat than beef and at a fraction of the cost.


Red Meats:

Choose loin or round cuts, which are leaner than other varieties.
Try leaner game meats, such as bison.


Fresh Meals in Minutes:

Try Fresh Meals in Minutes grilling components, available in the butcher shop at select Hannaford locations. Mix 'n match fresh ingredients, ready-made for your grill, to suit your taste! Think Tex-Mex roadhouse flavors, elegant Asian fare or rustic Italian bistro. Click here to check out our favorite combinations.


Seafood:

Skewer fish, shrimp, or scallops for the grill.
Choose omega-3-rich salmon or tuna steaks for heart-healthy fare. To prevent flaky fish from falling through the grill grates, use a cedar plank, which adds delicious flavor, or wrap the fish in foil with olive oil, lemon juice, garlic and fresh herbs, like dill, before placing it on the grill.


Better Burger Toppings

Choose 100% whole-wheat buns for more fiber.
Layer on fresh veggies: tomato slices, onions, and romaine lettuce.
Use healthier condiments: salsa, pesto or Hellmann's® Olive Oil or Canola Oil Mayonnaise.
Try the award-winning Cabot® 50% Reduced Fat Cheddar Cheese slices.


Click here to learn about minimum cooking temperatures and food safety.

Infuse fruit into your food by adding a tasty marinade to your meats, poultry and grilled vegetables for additional nutrients and flavor! Just mix the ingredients together in a resealable bag and add your protein or veggie.

Fiery Orange–Honey Marinade

2 tablespoons orange juice
2 tablespoons honey
1 tablespoon McCormick® Grill Mates® Fiery 5 Pepper Seasoning

Ginger–Lime Marinade

4 teaspoons lime juice
3/4 cup Wish-Bone® Italian Dressing
21/2 tablespoons honey
1 teaspoon ground ginger
1/4 teaspoon crushed red pepper flakes (optional)

Lemon–Yogurt Marinade

2 lemons, juice and zest
1 cup Dannon® Plain Yogurt
3 tablespoons olive oil
1/4 cup parsley
2 teaspoons paprika
1 teaspoon chopped garlic
1/2 teaspoon red pepper flakes
1 teaspoon kosher salt

Peach & Green Tea Marinade

2 tablespoons pureed peach
1/4 cup strong brewed green tea
2 tablespoons white wine vinegar
1 tablespoon McCormick® Super Spice Grill Blend (see recipe below)
McCormick® Super Spice Grill Blend:
Yield: Makes 1/4 cup
Prep Time: 5 minutes
2 teaspoons McCormick® Cinnamon, Ground
2 teaspoons McCormick® Garlic Powder
2 teaspoons McCormick® Rosemary Leaves, finely crushed
2 teaspoons McCormick® Thyme Leaves
1 teaspoon McCormick® Oregano Leaves
1 teaspoon Sea Salt from McCormick® Sea Salt Grinder
1/4 teaspoon McCormick® Red Pepper, Ground
Mix all ingredients until well blended. Store in tightly covered jar in cool, dry place.

Pineapple–Jalapeno Marinade

1/3 cup pineapple juice or puree
1/3 cup Hellmann's® Light Mayonnaise
1 tablespoon finely chopped pickled jalapeno peppers
1/2 teaspoon Dijon mustard
1 clove garlic, chopped

Tips on Healthier Ways to Marinate

1) When choosing bottled marinades or making your own, look for products or use recipes that contain olive or canola oil (and only use a little oil).

2) Meat and poultry should marinate at least one to two hours; fish and vegetables need only one hour, unless recipe states otherwise, because the acid in the marinade starts to cook the food.

3) Refrigerate foods that need longer than a half hour to marinate.

4) During grilling, don't baste the food with the liquid the meat was marinating in. This passes raw meat juices to your cooked meat. Instead, before you add the meat to marinate, set aside some of the marinade for basting and dipping purposes.