{"dragByHandle":true,"dragByBody":false,"cssSelector":"ql-thumbnail","widgetClass":"OverlayWidget","bindings":{"bind0":{"element":".ql-thumbnail .Quicklook .trigger","type":"quicklookselected","fn":"function(){$.fnProxy(arguments,\'#headerOverlay\',OverlayWidget.show,\'OverlayWidget.show\');}"}},"effectOnHide":"slide","effectOnShowOptions":"{}","effectOnHideOptions":"{}","closeOnBackgroundClick":true,"effectOnShowSpeed":"1200","onScreenPadding":10,"allowOffScreenOverlay":false,"captureClicks":true,"effectOnShow":"slide","effectOnHideSpeed":"1200"}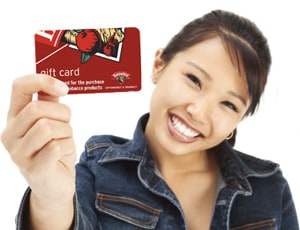 GIFT CARDS
Hannaford Supermarket gift cards are always the perfect gift
Buy your gift cards online now, and choose from a variety of card designs. Your card never expires and you can manage your card balances and reload with ease right here.

Gift card options

College Cards
Parents and students can reload student gift cards right online, and your college student can use it to buy food and supplies - the card cannot be used to purchase alcohol or tobacco.

Bulk Gift Card discounts
Have a big family, lots of friends, clients or employees to buy gifts for? You can get special incentives with our bulk gift card purchases.

Need help? Contact the Hannaford Gift Card Sales Line at (888) 646-2577 to purchase or reload gift cards. Our Gift Card Sales Department is open Monday through Friday, 8:30 a.m. to 4:30 p.m.