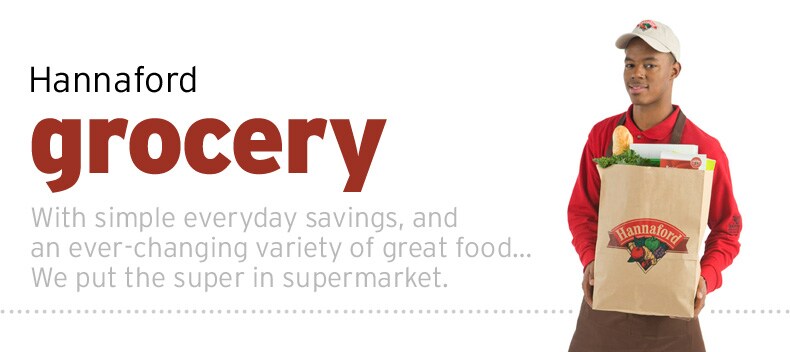 Hannaford makes it easy to make healthy, economical food choices because we know what's important to you…

A large selection of your favorite national brands – priced right every day
We make it easy to find foods with more nutrition with our Guiding Stars® system
New items that give you the chance to try something different every time you shop
Your favorite seasonal items, just when you want them – at very competitive prices
Products made or grown Close to Home®, that support local farms & businesses
Foods with integrity – We know our growers & suppliers personally, and fully support fair trade
Thousands of organic & natural foods – at down-to-earth prices.
Amazing variety – we carry a surprising number if items in categories you care about, like olive oils, marinades, coffees and tea

Easy, Healthy, Affordable Choices >>
Our Brands >>
Organic & Natural >>
Guiding Stars >>
Browse our grocery section for more delicious choices >>

A few of our favorite things…

Store and save
A great way to save money is buying foods in bulk – dried fruit, flour, spices, rice, sugar, beans, vegetables, fruit and meat keep well in your pantry or freezer in airtight storage containers. Hannaford has a wide selection of storage containers in every shape and size you could possibly need. We're especially proud of our own HOME 360 brand of storage containers. The quality is excellent and the price can't be beat.

Go nuts
Nuts and seeds are among some of nature's most nutritious foods. One of the best sources of protein, fiber, vitamins, minerals and antioxidants, nuts can be a great choice for a healthy diet. We sell a wide variety of nuts, seeds, and trail mixes in shelled and unshelled, oil roasted and dry roasted, organic and natural choices. Nut varieties include: peanuts cashews, almonds, pistachios, walnuts, macadamias, pine nuts, soy nuts. Seed varieties include: sunflower, pumpkin, flax and quinoa. We sell our nuts and seeds in an assortment of flavors that make great snacks, like honey, wasabi, chocolate, cinnamon, BBQ, salt and vinegar. Need help finding the healthiest nuts? Look for our Guiding Stars® shelf signs for good, better and best choices in the nut and seed category.

Hair Care
Hannaford has a surprising variety of hair care products that you won't find in other supermarkets, all at prices that fit your budget. Find shampoos, conditioners and color treatments for all types of hair and for everyone in the family, from Suave and VO5 to high performance shampoo like Pantene, and professional salon products too. We also carry a variety of natural, chemical free choices like RenPure and Nature's Gate.

Shaving and Grooming
Along with a wide variety of national brand products, we also carry a great variety of Hannaford Brand items that offer you a great shave at a low price (and double your money back if you're not satisfied with the quality). We carry a full range of Hannaford Brand disposable razors, from single blade disposables to 6–count disposables for both men and women.