{"dragByHandle":true,"dragByBody":false,"cssSelector":"ql-thumbnail","widgetClass":"OverlayWidget","bindings":{"bind0":{"element":".ql-thumbnail .Quicklook .trigger","type":"quicklookselected","fn":"function(){$.fnProxy(arguments,\'#headerOverlay\',OverlayWidget.show,\'OverlayWidget.show\');}"}},"effectOnHide":"slide","effectOnShowOptions":"{}","effectOnHideOptions":"{}","closeOnBackgroundClick":true,"effectOnShowSpeed":"1200","onScreenPadding":10,"allowOffScreenOverlay":false,"captureClicks":true,"effectOnShow":"slide","effectOnHideSpeed":"1200"}
Indulge Your Sweetheart with Chocolate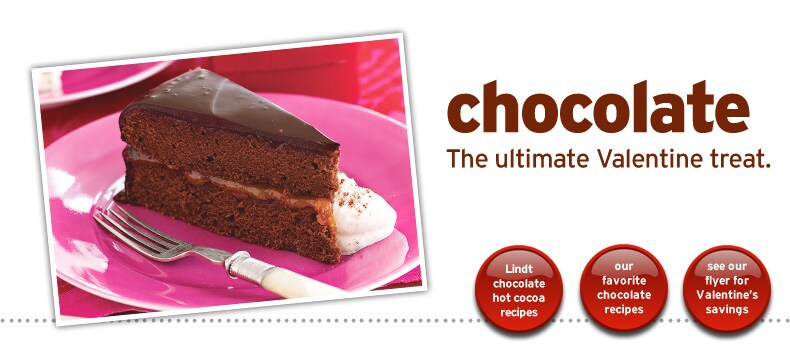 Chocolate – that creamy, smooth, sweet bite of bliss. It boosts the brain chemical serotonin – which explains that euphoric feeling that chocolate often brings. Associated with passion, love and romance, chocolate is the ultimate Valentine treat.
We carry a surprisingly wide selection of chocolates as well as decadent chocolate indulgences from the Bakery.
Lindt Hot Chocolate
Stir it up, using Lindor Truffles to make hot chocolate. Mix and match irresistibly smooth Lindor Truffles to create an exquisite hot chocolate in your favorite flavor.
Basic Recipe (serves 1)
Ingredients
1 cup milk
3 Lindor Truffles of your choice – see the list below for inspiration!

Flavor Combinations
White Raspberry: 1 raspberry, 2 white chocolate
Dark Raspberry: 1 raspberry, 2 dark chocolate
White Peppermint: 1 mint, 2 white chocolate
Dark Peppermint: 2 mint, 1 60% dark chocolate
White Hazelnut: 1 hazelnut, 2 white chocolate
Dark Hazelnut: 2 hazelnut, 1 60% dark chocolate
Dark Orange: 2 orange, 1 60% dark chocolate
Ultimate Chocolate: 1 milk chocolate, 1 dark chocolate, 1 60% dark chocolate

Instructions
Heat milk in a small saucepan over medium heat or microwave for one minute. Unwrap three truffles, add to the milk, and whisk. Continue to heat until the chocolate is completely melted, but do not bring to a boil.
Enjoy as is or say yes to whipped cream on top.
Delectable Chocolate Recipes

Enlightened Chocolate Truffles >>

Chocolate-Cherry Rugelach >>

Sacher Torte >>


Chocolate Fudge Cake
with Raspberry Coulis >>

Maltese Torta tal-Marmurat (Almond, Chocolate, and Ricotta Pie) >>

Nanaimo Bars >>