{"dragByHandle":true,"dragByBody":false,"cssSelector":"ql-thumbnail","widgetClass":"OverlayWidget","bindings":{"bind0":{"element":".ql-thumbnail .Quicklook .trigger","type":"quicklookselected","fn":"function(){$.fnProxy(arguments,\'#headerOverlay\',OverlayWidget.show,\'OverlayWidget.show\');}"}},"effectOnHide":"slide","effectOnShowOptions":"{}","effectOnHideOptions":"{}","closeOnBackgroundClick":true,"effectOnShowSpeed":"1200","onScreenPadding":10,"allowOffScreenOverlay":false,"captureClicks":true,"effectOnShow":"slide","effectOnHideSpeed":"1200"}
Hannaford Helps Fight Hunger

Shop the stars, help fight hunger. June 4 through June 24, for every Hannaford Brand product purchased that earns 1-3 Guiding Stars, we'll donate 5¢ to your regional food bank.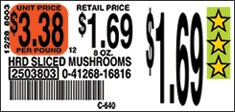 Look for these shelf tags on participating Hannaford Brand products. Excludes random weight items.


---
As a food retailer, Hannaford has long-standing relationships with food banks and local food pantries — we donate food and healthcare products every week. Hannaford Helps Fight Hunger was established in 2008 to help food banks feed individuals and families in need. The program is a powerful collaborative partnership with our customers and our suppliers to create opportunities for easy donations of food and cash right in our stores. One hundred percent of these donations go straight to your local pantries, regional food banks, and anti-hunger organizations.
Since 2008, Hannaford Helps Fight Hunger has contributed a total of more than $7.8 million in food, customer cash gifts and Hannaford cash donations to local food pantries and food banks.
Hannaford Helps Fight Hunger 2016 results
Across Hannaford's five–state market area, the Hannaford Helps Fight Hunger campaign in 2016 donated:
$1 million in food staples for local pantries through the sale of "Fight Hunger" boxes filled with nutritious items
$58,000 in cash donations that customers contributed at the checkout registers
More than $174,900 in product through our Buy 1, Give 1 program, which included over 11,000 cases of grocery staples
---
Look for our next Hannaford Helps Fight Hunger program to start in October, giving you 3 ways to make a difference in our communities:
Hannaford Helps Fight Hunger boxes: For just $10, you can donate a box filled with food staples that our local pantries need most.
Register Donation: You can donate cash at our registers that will go directly to regional and state food banks.
Buy 1, Give 1: When you purchase specific items during our Buy 1, Give 1 campaign, we'll match your purchase with donations to your nearest food bank.