{"dragByHandle":true,"dragByBody":false,"cssSelector":"ql-thumbnail","widgetClass":"OverlayWidget","bindings":{"bind0":{"element":".ql-thumbnail .Quicklook .trigger","type":"quicklookselected","fn":"function(){$.fnProxy(arguments,\'#headerOverlay\',OverlayWidget.show,\'OverlayWidget.show\');}"}},"effectOnHide":"slide","effectOnShowOptions":"{}","effectOnHideOptions":"{}","closeOnBackgroundClick":true,"effectOnShowSpeed":"1200","onScreenPadding":10,"allowOffScreenOverlay":false,"captureClicks":true,"effectOnShow":"slide","effectOnHideSpeed":"1200"}
Hannaford Helps Schools

Raising money for your school is as easy as 123 and ABC.
Shop
Choose from more than 700 participating products to help earn money for your school!
Checkout
Get 3 school dollars for every 4 participating products you purchase.
Submit
Deposit your school dollars in the collection tower in-store.
4 Products = 3 School Dollars. If your school has 100 families, and each family bought just 4 products (= $3 school dollars) each week for the entire program, your school would raise over $3,600!
Has your school registered yet?
Registering your school is easy with our online registrastion form.
Since its inception, Hannaford Helps Schools has raised more than $8.5 million for schools in New England and New York. We'd like to thank our customers, school administrators, teachers, parents and students for making Hannaford Helps Schools an important part of their fund-raising efforts.
In 2013 our Hannaford Helps Schools program raised an impressive $308,075 to benefit K-12 schools across New England and New York. 2,908 schools participated, and stores in each community that raised the most "School Dollars" were also awarded an additional $1,000, making the total raised during the 2013 campaign $507,073!
Checks were mailed on March 27, 2014 and were sent directly to schools to the attention of the principal. Each thousand-dollar grant winner will be contacted directly by a store manager to arrange a check presentation.
Want to see how well your school did in 2013? Download the results (PDF) >>
If you have questions, please call us at 1-800-205-7839.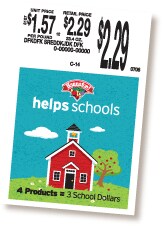 Look for these shelf tags when you shop at your local Hannaford between August 30 and December 6, 2014 to find participating products that earn school dollars!