{"dragByHandle":true,"dragByBody":false,"cssSelector":"ql-thumbnail","widgetClass":"OverlayWidget","bindings":{"bind0":{"element":".ql-thumbnail .Quicklook .trigger","type":"quicklookselected","fn":"function(){$.fnProxy(arguments,\'#headerOverlay\',OverlayWidget.show,\'OverlayWidget.show\');}"}},"effectOnHide":"slide","effectOnShowOptions":"{}","effectOnHideOptions":"{}","closeOnBackgroundClick":true,"effectOnShowSpeed":"1200","onScreenPadding":10,"allowOffScreenOverlay":false,"captureClicks":true,"effectOnShow":"slide","effectOnHideSpeed":"1200"}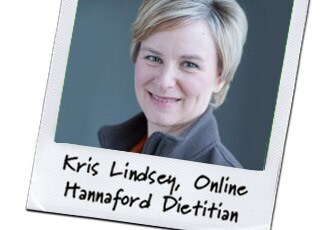 Our Dietitians & FREE Classes/Demos
Want free advice from one of our Registered Dietitians? Attend a class, see a demo or talk to us online anytime!
OUR SPONSORS
Thank you to our sponsors for partnering with Hannaford to offer free dietitian services in stores, online and across other media platforms. Our dietitians use carefully selected products from our sponsors in recipes and demonstrations to communicate science-based information about healthful eating.
Ask our online dietitian
Meet Kris Lindsey, online Hannaford Dietitian. Kris earned her BA in Journalism and BS in Food Science and Human Nutrition at the University of Maine and her Master's in Public Health at the University of North Carolina at Chapel Hill.
Click here to send Kris a question now
You can talk with Kris about a variety of diet & nutrition topics, including:
eating tips for a healthy lifestyle
special dietary needs
understanding food labels
portion control
weight loss support
recipe makeover tips
FREE nutrition demos & classes in our stores
Did you know that Hannaford offers FREE nutrition demos & classes across New England and New York, covering numerous topics, from Eating for Healthy Blood Sugars to Prenatal Nutrition, and just about everything in–between?
Our demos & classes are fun, interactive, and come with food samples to give you an idea of how delicious healthy eating can be! All demos & classes are FREE, taught by a registered or certified dietitian, and often include handouts, food samples, recipes, and a store tour. Some advanced registration may be necessary.
Hannaford Dietitians also offer special health store tour for scout troops, community groups and small businesses. To sign up, please download the schedule below for your area and call the number listed.
Click on a link below to download a PDF of the demos & classes scheduled for this month.
Meet our in-store dietitians
Hannaford Dietitians are in stores to help you make healthier decisions! Whether you need help understanding food labels or finding foods that support a change in your diet - like gluten free or diabetic options - our experts are available to answer your nutrition questions! Look below to find a Hannaford Dietitian near you and view their store hours. Bring your nutrition questions and say "hello" to a healthier lifestyle for you and your family!