healthy saver® plus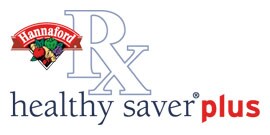 The Hannaford healthy saver® plus program is designed to save you money on prescriptions, vision care, hearing aids, certain diabetic supplies and more. For just $7 a year, you and your family receive all the great benefits of Healthy Saver Plus.
Featured oral antibiotics - FREE*
Hundreds of generic drugs available!

30-day supply $4.00*
90-day supply $9.99*

Savings on vision care, hearing aids and select diabetic supplies
* You must be a Healthy Saver Plus member to be eligible. Visit your Hannaford Pharmacy for details.
healthy saver plus links
FAQs >>
Drug Pricing Search Tool >>
Featured Generic Drugs (alphabetical) >>
Featured Generic Drugs (by category) >>
Enrollment Form >>
Additional Program Benefits >>
Contact Us >>
En Espanol
Preguntas frecuentes >>
Lista de medicamentos genéricos destacados >>
Formulario de inscriptión >>
The day supply is based upon the average dispensing patterns for the specific drug and strength. Select antibiotics are available for free up to a 14-day supply at average oral dosages. The program, as well as the prices and the list of covered drugs, can be modified by Hannaford at any time without notice and at Hannaford's discretion.
VALUE-BASED PROGRAM – NOT INSURANCE. The program is not an insurance policy and does not provide insurance coverage. Healthy saver plus is not meant for individuals participating in a federally qualified program. Savings are available exclusively through participating pharmacies. You may cancel your registration under the Hannaford healthy saver plus program at any time by contacting 1-866-315-6421.