HANNAFORD TO GO

Now available in the following locations:
It's easy!
Change your store at the top of the page to one of the Hannaford stores listed above.
Build your online grocery list using the search bar and/or the product browse.
Choose the pick–up time that works best for you, any time from 9 a.m. to 8 p.m. in ME, MA and NH stores and 9 a.m. to 9 p.m. in NY stores daily.
Our skilled team does the shopping for you, selecting only the best quality products.
When you arrive, pay for your groceries from the convenience of your car while we load your order for you.
Your first order is always FREE!
Order until 3 p.m. for same day pick up.
Get the same low prices you'd see in–store, use all the same coupons.
Pay with cash, credit, debit, gift card or personal check.
---
Hannaford To Go: Frequently Asked Questions
About Hannaford To Go
Q. What is Hannaford To Go?
A. Hannaford provides our customers in certain stores an online grocery shopping experience with store pickup. All the same great products you expect from Hannaford in a new convenient way to shop.
Ordering Online
Q. What are the easiest ways to start a list?


A. 1. Use a previous shopping trip – After signing up for a Hannaford.com account and getting your myHannaford number, go to the store and shop and buy like you normally would. At the checkout be sure to scan your myHannaford number. The next day your shopping trip will appear in your myHannaford account information under recent transactions in–store. Select all your items and save them to a new shopping list. Don't have a myHannaford number? You can print a temporary number from the "My Account" section found in the top right corner.
2.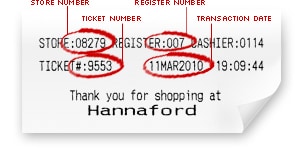 Have a recent receipt? – Go to you myHannaford account information and click on View Store Purchase History under the my transactions section. Click on the Enter Your Store Receipt link to enter the four number at the bottom of your receipt
3. Browse and search – Click on Shop by Department and/or the search bar in the header to find items you typically buy. Add them to a shopping list. When you're ready, add them to your cart for purchasing.
Q. What if I can't find an item on the site?
A. If you are unable to locate a product online, but think we carry it, type a note in order comments' when you checkout online. Enter as much information about the product as possible to help us locate your item. We will make our best attempt to locate the item in the store and add it to your order.
Q. Why do 'weighed items' vary and what is 'average weight'?
A. When you shop online for items priced by weight such as bananas or hamburger, you'll see an 'average weight' next to the item description. This is provided to help you understand a typical package size and to give you an approximate cost for the estimated order total. When we prepare the item we will label it with the actual weight and this is what you'll be charged for.
When you are selecting these items, we've provided a drop down menu to select each or pound. You can order in either measure, but if it's priced by the pound, you'll be charged by the pound.
Example #1: You want to order 4 bananas, but have no idea what 4 bananas weigh. That's OK! You can select 'each' in the drop down box and enter 4 in the quantity box. We'll select 4 bananas and charge you the appropriate price per pound. If you're making banana bread and need 2 pounds of bananas, just select 'lbs' in the drop down box and enter 2 in the quantity box.
Example #2: You want to order a beef chuck roast. We've provided you information that an average roast weighs 3.5 lbs. So, you can select 'each' and quantity 1 and we'll prepare you a freshly cut roast of about 3.5 lbs. Or if you'd like a slightly larger one, you can select 'lbs' and enter 4 in the quantity box. We can't always provide items significantly less or more than their average weight, but we'll come as close as we can to your request.
Q. Can I order my regular groceries and items like party platters and birthday cakes together?
A. Some special items like personalized cakes and platters require a 2 day lead time before pickup. You'll notice these items online with a 'select preferences' button in the item description. We'll also give you an 'order now and pickup as early as..." message on these items. If you'd like to order your full groceries and these occasion items together for one pickup, just tell us to combine the orders in the 'order comments' and we'll make it easy for you with just one stop. Remember to plan ahead and order early.
Q. Can I order gift cards for pickup with my groceries?
A. There are two ways for order gift cards. You can pay online and have them mailed to your home or have them included in your pickup order. If you'd like us to add gift cards to your Hannaford To Go order use the comment section to tell us how many and in what quantities. We'll be happy to add them to your To Go order. The gift card total will not be reflected in your order total.
Q. Can I add special instructions regarding products?
A. Want bananas that are a little green? Want your steak 2" thick? You can add special instructions to items in your shopping cart by simply click the 'Add Notes' link below the product. Also, if you want to allow for substitutions on all products except, for example, the milk you have selected, you can note that as well.
Q. Can I buy age restricted items like tobacco or alcohol on–line?
A. If your store carries the items, you can order alcoholic beverages and/or tobacco items for pick–up. We will check your identification to validate age at pickup. If an adult over the age of 21 for alcohol or 18 for tobacco is not paying at the time of pickup for the age restricted items, the alcohol products and/or tobacco items will be removed from the order.
Please note: Due to State Law both the driver and the customer that is paying for any Hannaford To Go transaction involving alcohol purchases will be required to show a valid ID.
Q. Can I modify or cancel an order that I've already submitted?
A. Hannaford To Go gives you the ability to modify or cancel your order online after you've placed your order. Please use the following guidelines:
| | | |
| --- | --- | --- |
| Pickup Time | | Last Chance to Modify Order |
| Before 2 pm | | 4 am day of pickup |
| After 2 pm | | 9 am day of pickup |

If you would like to modify your order, please log into the site and click on "My Account" in the top right corner and then , in the center column under My Transactions, click on View Online Purchase History. Click on "View Details" next to your order and then scroll down to either edit order or cancel order.
Q. What will I receive for order confirmation?
A. You can select to have your order confirmed by email or SMS text in the preference section under "My Account"
Q. What will I receive for customer communications?
A. Email addresses will be used for order confirmation and in a situation that we must contact you regarding your order.
Q. Are there any items I can't order online?
A. There are only a few items that are not available online like greeting cards and any over the counter prescriptions or drugs. You'll need to come into the store for these items.
Mobile Phone Orders
Q. How can I use my smart phone to send a Hannaford To Go order?
A. All of the features available on the site for sending, modifying and canceling orders are also available on your mobile phone. Go to hannaford.com on your phone and it you'll see our mobile site. When you login, you're shopping lists and your cart are accessible to you.
Q. How do I move items from a shopping list to a cart for ordering?
"Edit List" and then scroll to the bottom of the list to find the "copy items to cart" button.
Q. Will I find Hannaford on the Apple Store or Google Marketplace?
A. No. Hannaford has a mobile site that is available through your browser. There's no app to download. We recommend that you bookmark our site so you can easily get back.
Q. If I make change to my list or cart on my phone, will they also appear on my computer?
A. Yes. You're account is the same whether your on your phone or your computer, so all changes are shown in both places.
Fees & Payment Options
Q. What is the fee for this service?
A. The service fee is always waived for your first order. Beyond the first order, a fee of $5 or less is charged depending on the amount of your order and your location.
Q. How do I know what my final order total will be?
A. At the end of online checkout process you will receive an "estimated total". Your final order total at pickup will differ to accurately reflect items sold by weight such as produce and meat items, taxes, bottle deposits, price changes and to adjust for any substitutions that are made to your order.
Q. Are the prices the same on the website as in the store?
A. Yes. Prices online are the same in–store for the store you have chosen to shop from (your 'Home Store' online). We update online prices daily to account for flyer specials and price changes.
Q. Will the prices be the same on the day of my pickup?
A. Your final checkout total will reflect the prices instore on the day of your pickup. You may find differences due to regular price changes or flyer price changes. Remember, our flyer is in effect from Sunday to Saturday, so orders that cross over into a new week may have different pricing.
Q. Can I use Coupons?
A. Yes you can. Bring your manufacturer coupons and online coupons (printed) with you and your service associate will apply these to your order at the time of checkout.
Q.
Can I pay for my groceries online?

A. Sorry, we do not accept online payment for groceries ordered online.
Q. What are the payment options at the store?
A. Payment for Hannaford To Go orders is taken at the store upon pickup. Payments with credit card, debit card, cash, check or gift card will be tendered at your vehicle. If you wish to pay with EBT or a debit card requiring a PIN, just inform your service associate at the driveup when you arrive and they will notify you where to park. You'll need to enter the store to conclude your order for EBT or debit cards payments requiring a PIN. We are unable to accept WIC payments for online orders at this time.
Pickup
Q. What time can I pick–up my groceries at the store?
A. Pickup times can vary by store, so check your store. We do have limits on the number of orders for each hourly timeslot. If the timeslot is full, you'll be offered the next available time slot. You can plan on pickup anytime within the hour slot you've chosen.
Q. Do you offer same day pickup?
A. Yes. You can order the same day up to 3pm for pickups after 6pm. You can place your order online anytime up to 6 days ahead. (Some occasion items such as platters & cakes have a 2 day lead time)
ME, MA & NH STORES
NY STORES
Order Before
Same Day Pickup Times Available
Order Before
Same Day Pickup Times Available
5:00 AM
9:00 AM – 8:00 PM
5:00 AM
9:00 AM – 9:00 PM
6:00 AM
10:00 AM – 8:00 PM
6:00 AM
10:00 AM – 9:00 PM
7:00 AM
11:00 AM – 8:00 PM
7:00 AM
11:00 AM – 9:00 PM
8:00 AM
12:00 PM – 8:00 PM
8:00 AM
12:00 PM – 9:00 PM
9:00 AM
1:00 PM – 8:00 PM
9:00 AM
1:00 PM – 9:00 PM
10:00 AM
2:00 PM – 8:00 PM
10:00 AM
2:00 PM – 9:00 PM
11:00 AM
3:00 PM – 8:00 PM
11:00 AM
3:00 PM – 9:00 PM
12:00 PM
4:00 PM – 8:00 PM
12:00 PM
4:00 PM – 9:00 PM
1:00 PM
5:00 PM – 8:00 PM
1:00 PM
5:00 PM – 9:00 PM
2:00 PM
6:00 PM – 8:00 PM
2:00 PM
6:00 PM – 9:00 PM
3:00 PM
7:00 PM – 8:00 PM
3:00 PM
7:00 PM – 9:00 PM
4:00 PM
8:00 PM – 9:00 PM

Q. Where do I go to pick–up my order?
A. Watch for the Hannaford To Go navigation signs as you're driving into our parking lot. Drive to the designated pickup area. Press the button on the call box to announce your name. We'll ask you to drive ahead so others behind you can announce themselves as well. After we quickly review your order and collect payment, we'll be right out with your groceries. No need to get out of your car. A picture of the drive thru or drive up area will also be in your confirmation email.
Q. What if I'm running late?
A. No problem, just give the store a call at the phone number listed in your confirmation email. We will hold your groceries for you in temperature controlled cases.
Q. Can someone else pick up my order?
A. Sure! However, if you have age restricted items in your order such as alcohol or tobacco, they must provide their own valid identification for proof of legal buying age. Your designate must pay for the order as well.
Q. What happens if there are severe weather issues on my pickup day?
A. In the event that weather related incidences such as power outages or snow/ice storms that prevent product availability or employee access to the store, we will contact customers who have pending orders to make other suitable pickup arrangements.
Q. What if I forget a item and want to run into the store to get it?
A. If you have a last minute item to add you can either call the store directly and we'll be happy to add it, or park and come inside when you arrive. Tell the To Go Service Associate in charge at the Checkout area that you have a 'To Go' order and we'll happily add your orders together and help you to your car.
Q. Can I have my Pharmacy Prescriptions delivered to my car with my online order?
A. No, unfortunately we cannot combine a prescription order with your groceries. However, when you arrive at the designated pick up area, just let us know. We'll point you to a designated parking area and we'll ready your groceries as you are picking up your prescription.
Product Substitutions
Q. What if an item I ordered is not available?
A. Our goal is to be in–stock on all items. However, if an item is out of stock our substitution policy is:
To give you that same item in the closest size package
Please note that if for some reason we are out of stock with an item you ordered we will substitute that item with a suitable replacement. At the time of your pick up our To Go Service Associate will review with you any substitutions and you're welcome to refuse any of the suggested items.
We know you are busy, so we won't call you before pickup regarding any substitutes. If you'd like to be called for any substitutions, tell us in the order comments section when you checkout online.
Missing Items & Returns
Q. What if I want to return an item?
A. Products purchased through Hannaford To Go have the same quality guarantee that you're accustomed to in our store. If you are not completely satisfied please call the Hannaford To Go store team at your store or bring the item back to store. You can either return it normally inside the store on your next visit, or let us know when you drive up for pickup for your next order. Bring your receipt with you please.
Q. What if I didn't receive an item in my order?
A. Please check your receipt first to see if you were charged for the item, it may have been out of stock and a suitable substitution not found, if so, you should have been informed. If you were charged for an item that you didn't receive or have questions about substitutions please call the store for assistance.
Other
Q. Do you accept phone orders?
A. Sorry, Hannaford To Go has been designed exclusively as an internet–based shopping experience. However, we'll always do our best to satisfy you. Please call the Hannaford To Go store team to let us know how we can help.
Q. Should I give a tip?
A. Please, no tips. It is our pleasure to provide this service to you, our valued customer. Your return business, recommendation to friends and family, and thanks are the best tip we can receive.

Q. Will I receive all the myHannaford benefits with my Hannaford To Go order?
A. Yes. Your order will be scanned with your myHannaford number, so you'll automatically receive any benefits for which you qualify:
View your purchases online
Track purchases of foods that earn Guiding Stars
Earn dollars through your SavingStar account
Earn dollars through your Ibotta account
Earn dollars through your Upromise account
Track reimbursable health care expenses
Privacy
Q. Does Hannaford sell or share my information?
A. Hannaford will not sell or share your information. Please see our Privacy Policy for more information.