What is gluten free?
Celiac disease is a sensitivity to gluten, a protein found in grains, wheat, rye and barley. This disease can trigger an autoimmune response in which the small intestine villi are damaged, preventing nutrients from being absorbed. When gluten is removed from the diet, the small intestines will start to heal and overall health will improve. Check with your doctor before starting a gluten free diet.
Shopping for Gluten free foods
Did you know you can create a gluten free food list for your next shopping trip to Hannaford? It's easy to browse gluten free (and other allergen related) products online. You can refine your search by allergens (gluten-free, egg-free, nut-free, etc.) to help you find products at your store that are specific to your allergy or intolerance.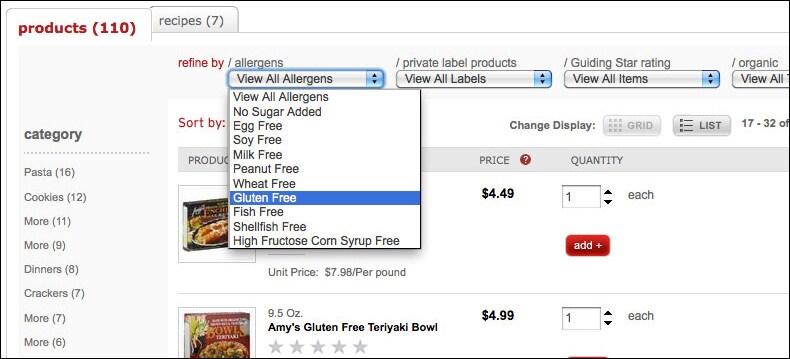 Create your gluten free shopping list now >>
Watch these short videos to learn how Hannaford.com can help with reading nutrition labels and comparing products online before you shop.
Enjoy these naturally gluten free foods

All fresh fruit & vegetables
Most dairy products (check labels for any fillers)
Meats, poultry & fish
Beans & lentils of every type
All nuts & seeds
Starches such as corn, rice, potato, parsnip, turnip, yucca and all other tubers

Gluten free grains, flours, cereals & starches

Brown rice/brown rice flour
White rice or sweet rice flour
Indian ricegrass
Rice bran
Garbanzo bean flour
Fava bean flour
Nut flours (almond, hazelnut, pecan)
Amaranth
Quinoa
Millet
Corn
Arrowroot
Potato flour
Sorghum
Soybeans/flour
Buckwheat
Tapioca
Flax
Polenta
Teff

Avoid these gluten-containing foods

Wheat – all forms
Barley
Rye
Bulgur
Semolina
Durum
Spelt
Triticale
Graham Flour
Couscous
Beer, Ale, Lager
Malt

Check these foods carefully as they may contain gluten

Meats injected with broths
Some marinades
Self-basting meats
Commercially prepared drinks
Some nondairy creamers
Processed deli meats
Thickening agents
Imitation seafood
Seasonings

The scoop on oats

Oats need special attention. Since some oats may be processed in the same facilities as wheat, contamination can occur even with the best cleaning protocol. Look for oats with the gluten-free claim.
Get fortified
Most gluten-free foods are not fortified. Make sure you're getting your daily needs of calcium, vitamin D, iron, folate and vitamin B12, and remember to check labels to make sure no gluten fillers are used.
Substitutions for 1 Tbsp. wheat flour
1 1/2 tsp. Arrowroot starch
1 1/2 tsp. Cornstarch
1 1/2 tsp. Potato starch or flour
1 1/2 tsp. Gelatin powder (unflavored)
2 tbs. Quick-cooking tapioca
1 Tbsp. White rice flour
1 Tbsp. Tapioca starch or flour
1 Tbsp. Bean flour (garbanzo)
Try these gluten free recipes
Talk to a registered dietitian about your gluten free diet
Have a specific question about an allergy or intolerance? Our Hannaford Dietitians can help! View monthly in-store schedules or send a message to our staff registered dietitian, Kris Lindsey >>
Understanding other food allergies (PDFs)