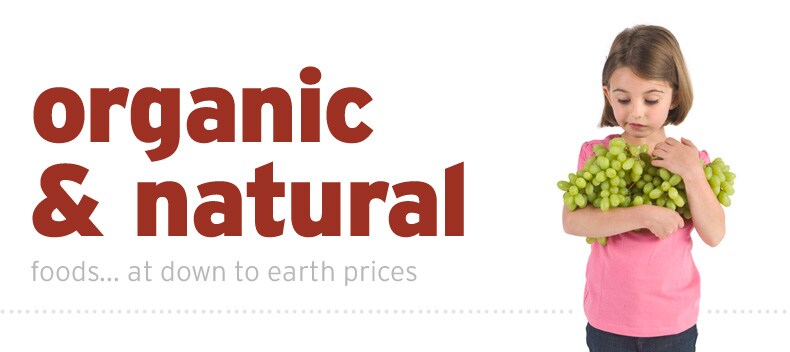 The average Hannaford Supermarket carries about 3,000 all-natural and certified organic products, ranging from fresh meat, produce and bakery items to frozen foods, health & beauty care and natural cleaning products. You always find a wide variety of healthy, delicious choices that you'd normally have to make an extra stop at a specialty or health food store to find – and we're adding more organic & natural products to our shelves every day.

We also offer our own line of organic & natural fresh and packaged products under the Nature's Place brand. Nature's Place products let you enjoy your favorite foods as they were meant to be – in their purest and most natural form – and we guarantee you'll love them, or we'll double your money back.

Look for organic signs and shelf tags throughout our stores to locate your favorite organic items.

What is Organic?

The difference between organic and natural or all-natural is based on the growing, handling and processing of the product. The term "organic" is regulated by the USDA, but the use of the terms "natural" and "all-natural" is regulated only for meat and poultry. So, often items called "natural" aren't quite as natural as you would expect. At Hannaford, we use the following FDA guidelines to define our organic and natural selections:

Organic
Organic produce and groceries are grown and made without using most conventional pesticides, sewage sludge or petroleum-based fertilizers, bio-engineering (GMOs) or ionizing radiation, keeping toxic chemicals out of our precious air, earth and water. Any soil used must have been clean and pesticide-free for at least 36 months. Organic farmers emphasize the use of renewable resources and the conservation of soil and water to enhance environmental quality for future generations.

Organic eggs and dairy products come from animals that are given no antibiotics or growth hormones, and are fed organic feed and/or graze in organically certified pastures.

Natural
Natural products are made without artificial ingredients including colors, flavors, preservatives, hydrogenated oils, high-fructose corn syrup, artificial sweeteners, refined sugars, added growth hormones, antibiotics, growth-promoting drugs, MSG or nitrates/nitrites. Products may be minimally processed in a way that does not fundamentally alter the raw product.