{"dragByHandle":true,"dragByBody":false,"cssSelector":"ql-thumbnail","widgetClass":"OverlayWidget","bindings":{"bind0":{"element":".ql-thumbnail .Quicklook .trigger","type":"quicklookselected","fn":"function(){$.fnProxy(arguments,\'#headerOverlay\',OverlayWidget.show,\'OverlayWidget.show\');}"}},"effectOnHide":"slide","effectOnShowOptions":"{}","effectOnHideOptions":"{}","closeOnBackgroundClick":true,"effectOnShowSpeed":"1200","onScreenPadding":10,"allowOffScreenOverlay":false,"captureClicks":true,"effectOnShow":"slide","effectOnHideSpeed":"1200"}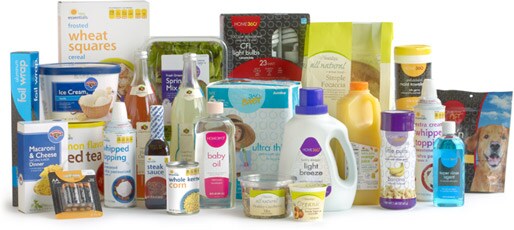 OUR BRANDS
Why pay more? Why settle
for less?
Try our store brands and save a lot, without sacrificing quality
National brand quality products and foods at a much lower price, is what our store brands are all about…
We're really proud of the store brands we offer, and based on the feedback we get from customers, we know you appreciate how they help you stick to your budget without sacrificing quality.
You'll learn more about each of our brands in this section, and we hope you'll continue to give us your feedback so we can keep making the kinds of products you love.
A note about nutrition
Now, all our store brand foods are free from added trans-fats and each has been evaluated by our Guiding Stars nutrition rating system. Money Back GuaranteeEvery item that earns "stars" will show symbols reflecting good, better or best nutritional value on the label.
Our quality guarantee
You'll love all our store brand foods and products, or we'll double your money back!