{"dragByHandle":true,"dragByBody":false,"cssSelector":"ql-thumbnail","widgetClass":"OverlayWidget","bindings":{"bind0":{"element":".ql-thumbnail .Quicklook .trigger","type":"quicklookselected","fn":"function(){$.fnProxy(arguments,\'#headerOverlay\',OverlayWidget.show,\'OverlayWidget.show\');}"}},"effectOnHide":"slide","effectOnShowOptions":"{}","effectOnHideOptions":"{}","closeOnBackgroundClick":true,"effectOnShowSpeed":"1200","onScreenPadding":10,"allowOffScreenOverlay":false,"captureClicks":true,"effectOnShow":"slide","effectOnHideSpeed":"1200"}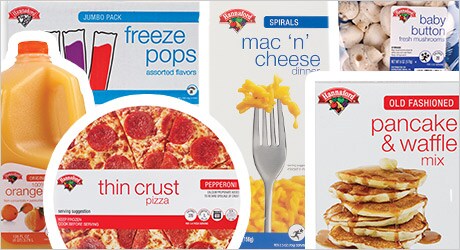 HANNAFORD BRAND
Get name brand quality for a lot less with Hannaford brand
Our Hannaford brand products have been the foundation of our store brand offering for years. You'll always see a wide variety of foods, ranging from pasta, spaghetti sauce and orange juice to frozen pizza, ground beef and sandwich meats.
Customers often tell us they can't tell the difference between Hannaford brand and the national brand - or, that they prefer Hannaford brand over the national brand. These products are made with high quality ingredients, and go through rigorous testing to ensure that they are equal to or better than the national brand.
Hannaford brand are products you can depend on for consistent quality that compares to national brands - at prices you'll love. Double Your Money Back
Our Hannaford Brand Promise
You can count on consistently great quality, variety and value from all our Hannaford brand products:
We manufacture Hannaford brands to the exact same quality standards as the national brands, and we require that all of our suppliers be certified for using safe food handling procedures.
Our products are monitored and approved by the U.S.D.A. (United States Department of Agriculture).
We rigorously test each items' quality in our own test kitchens to ensure we're matching the performance of popular national brands.
We stand behind our Hannaford brand products, and we'll double your money back if you're not satisfied.
Taste and tell!
We're always testing and improving our store brands, so your feedback really makes a difference! Like us on Facebook or follow us on Twitter and us what you think.