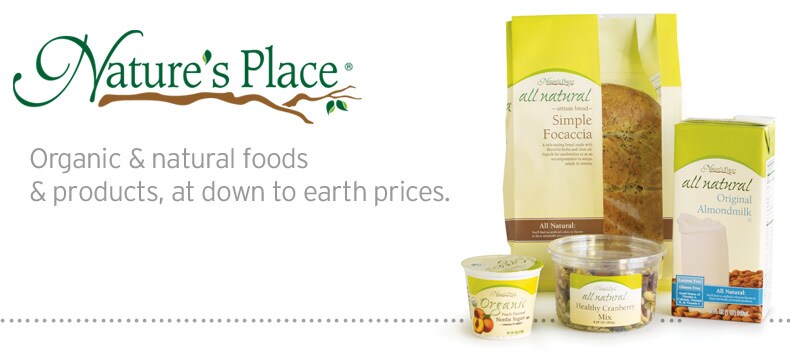 Nature's Place is our exclusive line of organic and natural foods, vitamins and environmentally sensitive household products – all offered at down-to earth prices. You'll find hundreds of organic and natural foods from fresh produce, chicken, and pork to pastas and sauces, snack foods, soymilk and more.

All Nature's Place organic products meet the USDA's strict guidelines for organic certification, and our all-natural foods are made without any artificial ingredients, growth hormones or antibiotics. We also carry an assortment of earth-friendly cleaning products and paper goods that tread lightly on the environment.

Our Nature's Place Promise

Organic, natural or earth-friendly, Nature's Place products offer the same kind of quality and variety you'd normally find at a natural foods store – for a lot less.

We manufacture to the strictest quality standards and we require that all of our suppliers be certified for using safe food handling procedures.
Our products are monitored and approved by the U.S.D.A. (United States Department of Agriculture).
We rigorously test each items quality in our own test kitchens or independent laboratories to ensure we're matching the performance of comparable national brands.
Our products are never tested on animals.
We stand behind our Nature's Place products and we'll double your money back if you're not satisfied.