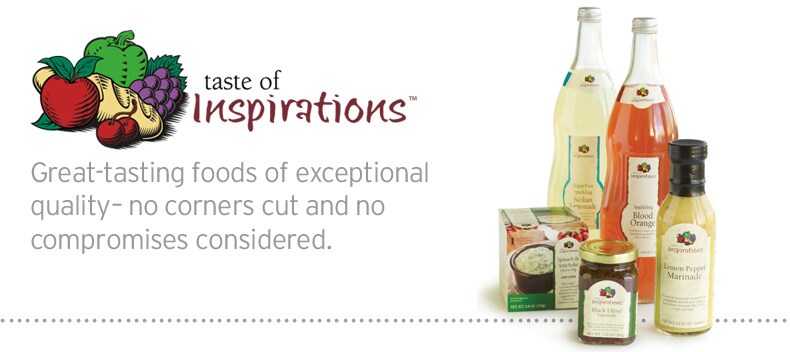 A Delightful Treat

Try our NEW Taste of Inspirations™ Greek yogurt. You'll love the thick and creamy texture so much, you'll want to try all six delicious flavors: vanilla, honey, strawberry, peach, blueberry and plain.

These individual 6 Oz.serving cups are a perfect fat-free snack or dessert, and they're packed with two and a half times more protein than regular nonfat yogurt.*

Best of all, our Greek yogurt is made with fresh, wholesome ingredients exclusively for us. The unflavored plain yogurt earns three Guiding Stars® and is a great choice for cooking savory dishes and making dips and sauces. For indulgent taste without the guilt, give our Taste of Inspirations Greek yogurt a try.

*Our Greek nonfat yogurt contains 14 g of protein per 6-oz. serving. Regular nonfat yogurt contains 6 g of protein per 6-oz. serving.

Try some of your own combinations with Taste of Inspirations Greek yogurt:

Add chunks of ripe, juicy mango for an amazing dessert.
Drizzle a tablespoon of honey on the plain yogurt for a little sweetness.
Drizzle a tablespoon of blueberry syrup on the honey-flavored yogurt and top with fresh raspberries.
Add any of the flavored yogurts to breakfast smoothies for a good protein boost in the morning.

Tzatziki Sauce Recipe

This fresh and light Greek sauce is delicious served with pita bread triangles and lamb dishes.

Ingredients

2 cups plain Greek yogurt
(approximately 3 containers of yogurt)
1 cucumber, peeled, seeded and diced
1 Tbsp. fresh dill, chopped
1 Tbsp. fresh mint, chopped
2 Tbsp. fresh lemon juice
(about half a lemon)
2 cloves garlic, chopped
Salt and pepper to taste


Directions
In food processor or blender, combine all ingredients and blend until well-mixed. Pour into bowl, cover and refrigerate for a minimum of two hours. Drain off any water and stir before serving.

Taste of Inspirations

When we created Taste of inspirations, we wanted to offer you something different – unique products, with delicious taste, handcrafted from the best ingredients we could find. Today, you'll see the Taste of Inspirations label on some of our favorite foods – They're the little indulgences you'll go out of your way for, made from recipes you won't find anywhere else.

Whether you're looking for an exotic flavor of marinades or simmer sauces or craving an authentic taste in grilling sauces, mustards, or premium deli meats and cheeses, look for the Taste of Inspirations label.

Our Taste of Inspirations Promise

We guarantee superior taste reflecting the latest culinary trends and made with the finest ingredients:

We create Taste of Inspirations products using the strictest quality standards and we require that all of our suppliers be certified for using safe food handling procedures.
Our products are monitored and approved by the U.S.D.A. (United States Department of Agriculture).
We rigorously test each items quality in our own test kitchens to make sure we're providing a product that is exceptional when compared to everyday items.
We stand behind our Taste of Inspirations products, and we'll double your money back if you're not satisfied.