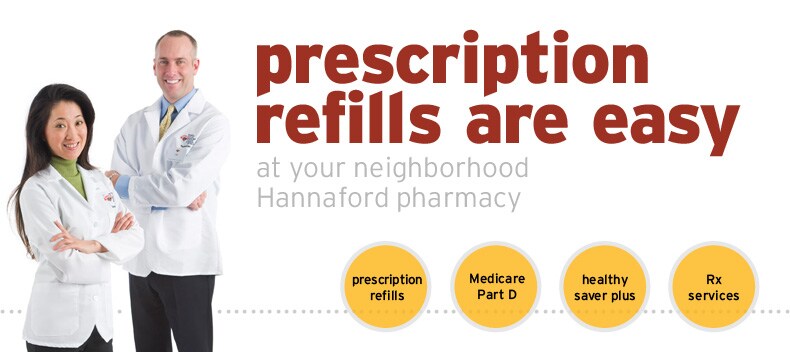 If you've never filled your prescription at Hannaford before, it's easy to get started. Simply have your doctor call your prescription in to the Hannaford pharmacy of your choice, or come in to the store with your current prescription bottle and our pharmacists will take care of the rest.
View our HIPPA notice of privacy practices>>

For online prescription refills

It's easy to refill your Hannaford prescription from your home or office computer, 24 hours a day, 7 days a week…
Log in to to refill your prescription>>
You will need to create an account to manage your prescriptions. Register here >>

Refilling your prescription by phone

Just call the Hannaford Pharmacy phone number printed on your prescription bottle, then follow the simple prompts. Be sure to have the bottle in front of you so that you have all the information you'll need handy.

Refilling your prescription in-store

One of the big advantages of filling your prescriptions at Hannaford is being able to have your prescription filled while you shop for groceries. Just drop off your new, transferred or refill prescription at the pharmacy when you when you first get to the store.