{"dragByHandle":true,"dragByBody":false,"cssSelector":"ql-thumbnail","widgetClass":"OverlayWidget","bindings":{"bind0":{"element":".ql-thumbnail .Quicklook .trigger","type":"quicklookselected","fn":"function(){$.fnProxy(arguments,\'#headerOverlay\',OverlayWidget.show,\'OverlayWidget.show\');}"}},"effectOnHide":"slide","effectOnShowOptions":"{}","effectOnHideOptions":"{}","closeOnBackgroundClick":true,"effectOnShowSpeed":"1200","onScreenPadding":10,"allowOffScreenOverlay":false,"captureClicks":true,"effectOnShow":"slide","effectOnHideSpeed":"1200"}
Special Offers
This week's hot deals!
Save early!
Offer valid 11/12/17 - 11/25/17.
SAVE $20
Save $20 on your next grocery purchase when you spend $100 or more on these participating gift cards!*

*Offer valid on these participating cards only: Domino's®, JCPenney®, Express, Best Buy®, Applebee's®, Sephora and iTunes®. While supplies last. Subject to availability. See gift cards for terms, conditions, and (if applicable) fees. All trademarks are property of their respective owners. TM and © 2017 Apple Inc. All rights reserved. Product may not be available in all stores. No rain checks. Limit 1 coupon per transaction. The gift cards featured are not sponsors of or otherwise affiliated with Hannaford.
---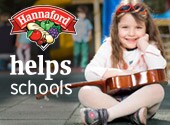 Hannaford Helps Schools - Help earn money for your local school.
Program runs 8/27/17 - 12/2/17.

Buy 4 participating products, get 3 school dollars!
To learn more about this valuable program and get useful tips to help make this program successful for your school, please visit our
Hannaford Helps Schools
page.
---

---