{"dragByHandle":true,"dragByBody":false,"cssSelector":"ql-thumbnail","widgetClass":"OverlayWidget","bindings":{"bind0":{"element":".ql-thumbnail .Quicklook .trigger","type":"quicklookselected","fn":"function(){$.fnProxy(arguments,\'#headerOverlay\',OverlayWidget.show,\'OverlayWidget.show\');}"}},"effectOnHide":"slide","effectOnShowOptions":"{}","effectOnHideOptions":"{}","closeOnBackgroundClick":true,"effectOnShowSpeed":"1200","onScreenPadding":10,"allowOffScreenOverlay":false,"captureClicks":true,"effectOnShow":"slide","effectOnHideSpeed":"1200"}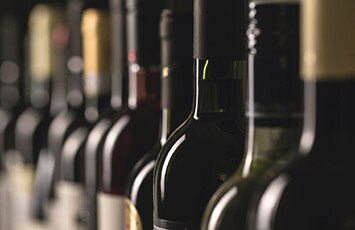 Choosing the right wine
Choosing the
right wine
Don't know your chardonnay from your cabernet? Your merlot from your shiraz? The best part of enjoying wine is the exploration. The tastes, the differences, how a varietal matches your menu and enhances your meal are all a matter of trial and error… and a little help from our wine experts.
Don't let a fancy label intimidate you. Arm yourself with our helpful suggestions for choosing and enjoying wine and build from there. You'll be surprised (and a little pleased) with how quickly your expertise grows.
Look
Check for color and clarity. Visual cues can indicate grape varieties used, maturity (a young wine will be clearer than an old one) and whether the wine was aged in oak. A wine's color can shift over time, giving a good indication of body and age.
Smell
To assess the "nose" of a wine, swirl it around in a glass and take a sniff – your first impressions are crucial. Does it smell fresh? How intense is the aroma? Does it remind you of anything? Certain flavors give a very specific indication of a wine's identity and character.
Taste
Different parts of your tongue register different flavors, so be sure to roll the wine around in your mouth. Inhale over it to further release its flavor. Try to assess the characteristics of the wine: body, acidity, sweetness, fruitiness and tannin. Tannins determine the bitterness of the wine, especially in its finish.
Finish
This essentially refers to a wine's resonance and aftertaste. Did you like it? How long did the impression and flavor linger? Was it sweet? Acidic? Tannic? Fruity? A wine's finish can leave a lasting impression, good or bad. After swallowing or expelling the wine, cleanse the palate with a bit of red wine or a sip of water before sampling the next selection.
Serving tips
Temperature
Temperature can have a significant influence on the quality and taste of your wine. White and blush should be served at 55-60° F, red at 62-67° F and champagne at a crisp 45° F.
Serving a variety of wines?
Always serve light before heavy, white before red and simple wines before those with a more complex character.
Do you experience headaches with wine?
Sulfites are found naturally in most wines and are often added by vineyards as a preservative as well. While some of us do suffer reactions like headaches to sulfites, more often than not histamine or other chemicals in the wine are to blame. Organic wines generally have fewer sulfites added and less histamine, so you may want to give one of many organic wines a try.