{"dragByHandle":true,"dragByBody":false,"cssSelector":"ql-thumbnail","widgetClass":"OverlayWidget","bindings":{"bind0":{"element":".ql-thumbnail .Quicklook .trigger","type":"quicklookselected","fn":"function(){$.fnProxy(arguments,\'#headerOverlay\',OverlayWidget.show,\'OverlayWidget.show\');}"}},"effectOnHide":"slide","effectOnShowOptions":"{}","effectOnHideOptions":"{}","closeOnBackgroundClick":true,"effectOnShowSpeed":"1200","onScreenPadding":10,"allowOffScreenOverlay":false,"captureClicks":true,"effectOnShow":"slide","effectOnHideSpeed":"1200"}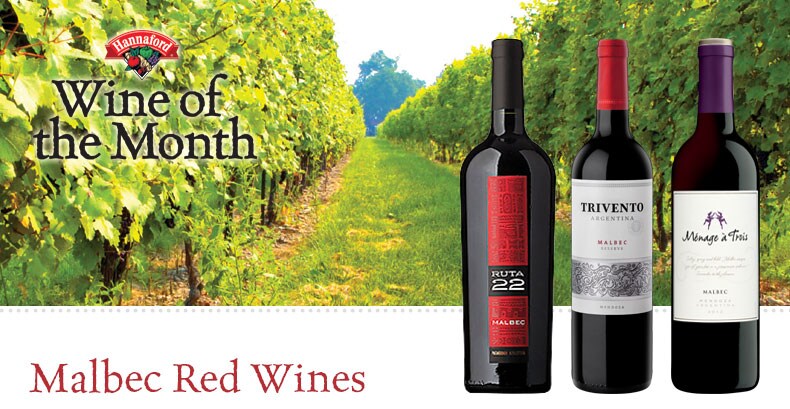 Time for Malbec
Malbec is a red grape that was one of the "big six" allowed in the blend of the famous Bordeaux wine. Originally from the southern area of France, it's primarily found in the Cahors region today. It was a difficult grape to grow because the roots were susceptible to disease and rot in the French climate.
In the mid-nineteenth century, French agricultural engineer, Michel Pouget, introduced Malbec to Argentina. The soil and climate are ideally suited to this variety and today; Malbec is Argentina's most emblematic red grape varietal.
Malbec is a crowd-pleasing wine. It's a full-bodied dry red wine with flavors of plum, black cherry and blackberry that's easy to drink. We've selected three Malbec's for you to share with your family and friends this month: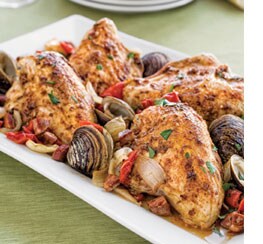 Ruta 22 Malbec
Ruta 22 wines are from Patagonia, South America. The name is from the main route that travels from East to West through Argentina. The Ruta 22 Malbec has a deep, dark, ruby red color. It has forward aromatics of ripe fruit with a hint of vanilla. On the palate, it's concentrated, yet soft and smooth with subtle oak in the finish.
Pairs well with: Roast meats, stew, poultry, pasta and cheeses.
Recipe: Roasted Chicken with Chorizo, Peppers, and Clams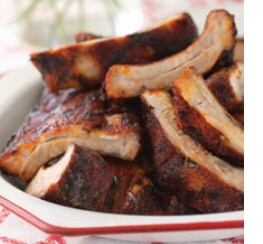 Trivento Malbec
Trivento means three winds. The Polar, Zonda and Sudestada winds blow across the sunny arid land of Mendoza, Argentina. These winds are a distinguishing feature of the region's climate and environment. The Trivento Malbec has powerful aromas of ripe red fruits with hints of coffee and chocolate from the oak aging. Good body and tannins with a long, lingering finish.
Pairs well with: Barbequed meats.
Recipe: Spiced–Rubbed Pork Ribs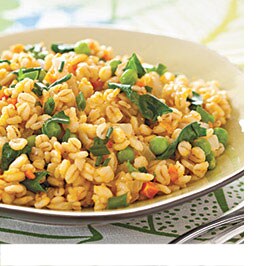 Menage a Trois Malbec
Menage a Trois winemakers believe the more the merrier and their winemakers like to play matchmaker, bringing together ripe, luscious flavors and alluring aromas and textures to their collection of wines.
Menage a Trois Malbec is a sultry wine that boldly tangos across your palate trailing an irresistible blend of blackberries, blueberries, dark cherries and hints of spice in its wake. With an opulent texture, soft, round tannins, and a long, velvety finish, this wine is passion personified.
Pairs well with: Grilled red meat, lamb, pasta and risotto.
Recipe: Barley "Risotto" Primavera