Hannaford has a long history of supporting organizations and programs that help keep our local communities healthy and thriving.
Charitable Giving
We're proud to play an active role in improving the quality of life for our neighbors. We continuously evaluate needs and create community partnerships to address root causes. Through financial aid and volunteerism, we help advance the mission of many nonprofit organizations operating in the five states we serve.
Hannaford Helps Fight Hunger
Throughout the year, we offer many programs that help to fight hunger. One example, our Hannaford Helps Fight Hunger program, provides food and financial support to hunger relief agencies who are working hard to support those in need in our local communities.
Learn More

Hannaford Helps Schools
Earn money for schools in your community just by purchasing participating products at your local Hannaford store. Together, we can ensure that all students reach their full potential.
Learn More
Hannaford Helps Reusable Bag Program
Every time you purchase a Hannaford Helps Community Bag, or a Hannaford Helps Fight Hunger Bag, we donate $1 to a local nonprofit organization of your choice. Purchase these reusable bags today to help your neighbors AND protect our planet!
Shop Now
Learn More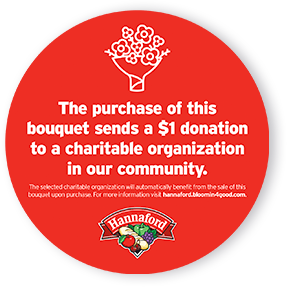 Bloomin' 4 Good
Each time you purchase a Bloomin' 4 Good bouquet, we'll donate $1 to a local charitable organization. Shop in-store and look for the sticker on specially marked bouquets and make a difference in your community.
Learn More
Local Donation Kiosks
Every month, store associates choose an organization to benefit from customer cash donations and other funds raised through associate in-store fundraisers. Look for a kiosk near the registers at the front of your local Hannaford store. Consider donating your loose change after you check out. Every penny counts!
Donations and Giving
Community is so important to us. We feel a strong responsibility to do our part to ensure that all individuals and families in our local communities are cared for and have access to services and programs that meet their needs.
Are you a nonprofit seeking sponsorship for a community program?
We invest in nonprofit programs that align with our three charitable focus areas: Health & Wellness (as it relates to nutrition); Child & Family Development; and Hunger Relief. We highly value diversity and are committed to doing our part to remove barriers and help to bridge gaps in the areas of food security and education in communities in and around our stores. See if your organization qualifies and fill out an application today.
Learn More
Are you a nonprofit seeking funds for a significant capital project?
The Hannaford Charitable Foundation invests in nonprofit capital projects within the five-state area of our business that benefit a large segment of local communities. Investments are made in projects that create a sustainable impact and produce measurable outcomes to foster healthy communities. See if your organization is eligible and apply today.
Learn More