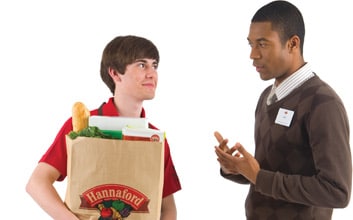 CAREERS
Start a career at Hannaford and develop a taste for success
We're always looking for talented people who share our passion for food, respect for fellow associates, and outstanding customer service… if you're looking for the same thing, you've come to the right place.
Learn more about the types of Job we offer:
Corporate
The dynamic hub of Hannaford operations is our corporate office, located in Scarborough, Maine. Here you'll find opportunities in a multitude of different departments that function together to support our retail operations, making Hannaford a leader in the complex, competitive world of the supermarket industry. An active commitment to innovation drives our product research and the continuous improvement of business processes in departments such as Research, Information Technology, Engineering, Merchandising, Marketing, Human Resources, and many more. Corporate associates may also be eligible for global assignments.
Retail
Our stores are a great place for enthusiastic, customer–focused people to learn and grow as a store manager, assistant store manager, department manager, or hourly associate. If you like working in a fast–paced, team environment, you'll love working with us! We're not your everyday supermarket. You will be surprised at some of the great advantages we offer our valued store associates, such as:
Flexible work schedules
Ongoing training and development
Growth opportunities through our Career Track Program
Outstanding benefits for both full and part time associates
Retail Management Opportunities
We are always looking for talented leaders who share our passion for great food and outstanding service to our customers. If you wish to pursue opportunities as a store manager, assistant store manager, or department manager, browse our current retail leadership opportunities and apply online for the position and location that interest you.
Hourly Retail Opportunities
Each Hannaford Supermarket hires its own team of associates. To apply for a position in one of our stores, click here to find the Hannaford store that interests you. We have great opportunities available such as:
Front End - cashiers, customer service associates, service center associates, and bookkeepers
Deli & Bakery - sales associates, service leaders, bakers, and production associates
Produce, Meat & Seafood - sales associates, meat cutters, meat apprentices
Nonfoods & Grocery - grocery associates, receivers, night crew (overnight stocking), nonfoods, specialty foods, health & beauty care associates, frozen food & dairy associates
Distribution and Trucking
Hannaford Distribution Centers
Products for our retail stores are supplied by three company owned and operated distribution centers and Hannaford Trucking Company. Our distribution centers are located in South Portland, Maine, Schodack, New York, and Winthrop, Maine. There are many work opportunities in our distribution centers: Product selection, receiving, inventory control, maintenance and security teams. Opportunities for advancement include opportunities such as team leaders, shift supervisors, department managers or operations management.
Hannaford Trucking
Hannaford Trucking is a wholly owned subsidiary of Hannaford, serving all of our stores while maintaining one of the best safety records in the industry. We are a licensed contract carrier with authority to transport general commodities in 48 states. Our opportunities for employment range from drivers to dispatch operators, routers, load consolidators and transportation clerks.
To apply:
South Portland Distribution Center
Human Resources
PO Box 1000, Mail Sort #4300
Portland, ME 04104
Fax: 1–207–482–5684

Hannaford Trucking Company
Human Resources
P.O. Box 1000, Mail Sort #0381
Portland, ME 04104
Fax: 1–207–482–5684

Progressive Distributors
Human Resources
PO Box 295
Winthrop, ME 04364
Fax: 1–207–377–5722

Schodack Distribution Center
Human Resources
970 Route 9
Schodack Landing, NY 12156–9700
Fax: 1–518–766–7036
Pharmacy
The core of our successful pharmacy business is our people – pharmacy managers, pharmacists and technicians who practice at the highest level of ethical and professional behavior. We have many opportunities, whether you are a licensed pharmacist, a soon–to–be graduate or still in school. We offer a competitive benefits package, as well as a professional work environment. Additionally:
You'll have more opportunities to provide clinical value.
Never considered a supermarket? Think about this. Your patients are also our customers'people who shop in our stores twice a week on average (compared with once–a month patrons at the pharmacy chains). So you'll have more opportunities to get to know people, share your clinical expertise and make a real difference in their lives.
Commitment to wellness
We offer our pharmacists a variety of health and wellness alternatives to help customers, including:
Nutrition classes
Guiding Stars program
Connect to a registered dietician
To apply, click here or visit our sister companies for pharmacy opportunities outside of the northeast.
College Recruiting
Whether you are still in college or a soon–to–be college graduate, we have many exciting opportunities for you. Current college students will find internship positions in our retail stores, distribution centers, in–store pharmacies, and corporate office. Soon–to–be college graduates can apply to our Retail Management Training Program and our Pharmacist positions in our retail stores.
Internships
Pharmacy
Corporate, Retail and Distribution
College Recruiting
Pharmacy
Retail Management Training Program
Our International Graduate Trainee Program is open for applications!
The International Graduate Trainee Program offers highly talented graduates a unique opportunity to develop their leadership potential in an international environment through various assignments within different countries and departments.
The 18–month program consists of three different assignments with a duration of six months each; the first six months rotation within the country of residence of the trainee; then six months abroad; and the last 6 months at one of Ahold Delhaize corporate offices.
What makes this program stand out?
The International Graduate Trainee Program actively engages ambitious trainees to develop their leadership skills and offers a variety of project assignments and opportunities to discover different jobs and departments throughout the program.
Moreover, trainees get a head–start to their careers by gaining international experience and accelerate their growth as leaders in a fast paced professional environment. Needless to say; this is a dream job! Apply now Apply now !
Benefits
Competitive base and incentive pay
401(k) Savings and Investment Plan, with company match
Comprehensive health benefits, including:

Medical coverage for you and your dependents (including domestic partner)
Savings on prescription drugs
Dental insurance Life insurance, including supplemental life for you and your dependents
Disability insurance
Health and Dependent Care Reimbursement Accounts to save money on health and dependent care expenses

Vacation, holiday, sick and leave (family, bereavement and jury) time
Education benefits – scholarships and tuition reimbursement programs
Wellness programs
Hannaford EAP – free confidential help for associates and their families, from child care and parenting help to free legal and financial assistance and counseling
Credit Union
Our Diversity Policy
At Hannaford, we are committed to diversity and inclusion in the workplace. Our culture thrives on mutual respect, teamwork, diversity of thought, and productivity in the workplace among people who are diverse in work background, experience, education, age, gender, race, national origin, physical abilities, religious belief, sexual orientation, gender identity, and other real and perceived differences.
Our values are intrinsically aligned with our diversity & inclusion commitment. We believe that through determination, diversity and inclusion creates a distinct competitive advantage and can produce a more innovative and responsive organization. We also acknowledge that integrity is inherent in our responsibility to the communities we serve. We recognize the importance of a diverse workforce in those communities where we live and do business.
We are committed to a culture where differences are accepted, valued and used to enhance the business and support the organization's objectives.
Through courage, our differences become a source of strength and creativity for the business. Inclusion means creating an environment that welcomes all qualified candidates, and seeks to eliminate any tendency of bias or stereotype.
A diverse, highly participatory culture provides a competitive advantage that is a prerequisite for the high performance organization our future requires, enhanced by the power of humility and the openness of humor.
Accordingly, Hannaford provides equal opportunity in employment to all associates and applicants for employment. No person shall be discriminated against in employment because of his or her race, religion, color, sex, age, veteran status, national origin, sexual orientation, gender identity and gender expression or on the basis of his or her disability.
Delhaize America earns top marks in 2016 corporate equality index. Learn more.
Committed Community Partner
We are active partners in our communities where we focus on fighting hunger, supporting youth development, and helping people live healthier lives. We are proud to be a major supporter of community organizations and local non-profits across our market area. We donate more than $4 million a year to local non-profits with store-level financial gifts, Community Relations grants and Hannaford Charitable Foundation awards.
We also partner throughout the year with community organizations to recover food that otherwise might be wasted. Food is sent and to fight hunger locally. In 2015, we donated 20.2 million pounds of food to pantries, meal program and food banks. Learn more.
Caring for the Environment
At Hannaford, we are commited to sustainability and healthy communities at the center of our strategy. We are an innovator and frequently launch industry-leading initiatives for protecting the environment. We have taken steps to fight global warming and are an industry leader in reducing waste. These are actions and promises we make today and for the future. Learn more.

DISCLAIMER This email and any attachments thereto, which may contain information that is proprietary, confidential and/or privileged, are for the intended recipient(s) only. Any access to such information by other persons is unauthorized. If you have received this e-mail in error, please notify the sender by telephone or e-mail and delete the material from any device promptly. No entity that is part of the Ahold Delhaize Group shall be liable for consequences of inaccurate or incomplete transmission or any delay in receipt as a result of viruses or otherwise. To the extent this email is intended to create any legal obligation, the obligation shall bind only the contracting entity and not any other legal entity within the Ahold Delhaize Group, unless indicated otherwise.