{"dragByHandle":true,"dragByBody":false,"cssSelector":"ql-thumbnail","widgetClass":"OverlayWidget","bindings":{"bind0":{"element":".ql-thumbnail .Quicklook .trigger","type":"quicklookselected","fn":"function(){$.fnProxy(arguments,\'#headerOverlay\',OverlayWidget.show,\'OverlayWidget.show\');}"}},"effectOnHide":"slide","effectOnShowOptions":"{}","effectOnHideOptions":"{}","closeOnBackgroundClick":true,"effectOnShowSpeed":"1200","onScreenPadding":10,"allowOffScreenOverlay":false,"captureClicks":true,"effectOnShow":"slide","effectOnHideSpeed":"1200"}
hannaford fresh cookbook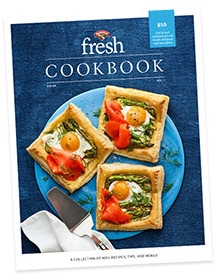 We've compiled the best fresh magazine recipes–plus brand-new tips, menu ideas, and more!–to create a beautiful cookbook that will brighten up your meals at home. Plus, each cookbook sale will support childhood nutrition and hunger relief efforts right in your community.
Buy a cookbook in stores, or add a cookbook
to your Hannaford To Go shopping cart.
For every fresh Cookbook you buy, $5 will
be donated to local organizations that are working to eliminate childhood hunger and improve nutrition.
How It Works
Did you know that just $5 can provide more than 20 nutritious meals? With your purchase of a cookbook, Hannaford will make a $5 cash donation that will give local organizations the freedom to use the funds to fulfill specific needs in your community. You can feel good about helping your local community while enjoying a collection of the best recipes from fresh magazine.
My Store, My Community
Every month, each Hannaford store will select a new local non-profit to receive the cookbook donations. Take a look at your store for the organizations they'll be supporting in your area.
For more information, tools to help you spread the word in your community, and
frequently asked questions, please visit here.