{"dragByHandle":true,"dragByBody":false,"cssSelector":"ql-thumbnail","widgetClass":"OverlayWidget","bindings":{"bind0":{"element":".ql-thumbnail .Quicklook .trigger","type":"quicklookselected","fn":"function(){$.fnProxy(arguments,\'#headerOverlay\',OverlayWidget.show,\'OverlayWidget.show\');}"}},"effectOnHide":"slide","effectOnShowOptions":"{}","effectOnHideOptions":"{}","closeOnBackgroundClick":true,"effectOnShowSpeed":"1200","onScreenPadding":10,"allowOffScreenOverlay":false,"captureClicks":true,"effectOnShow":"slide","effectOnHideSpeed":"1200"}
hannaford helps schools

Help schoolkids reach their goals –
raising money for your school is as easy as 1, 2, 3.

1. Shop.
Look for shelf tags on more than 1,500 products & earn $ for your school!

2. Check out.
Get 3 school dollars for every 4 participating products you purchase.

3. Submit.
Deposit your school dollars in the collection tower in-store.
DIGITAL TOOL KIT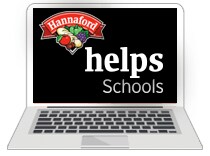 Sample Social Media Posts
Website Banners
Shopping List
Shopping Companion

4 Products = 3 School Dollars. If 100 families buy 4 products each week (3 school dollars) for the entire program, your school will raise $3,900! See a full list of participating products.

About Hannaford Helps Schools
Since its inception, Hannaford Helps Schools has raised more than $11 million for schools in New England and New York. We'd like to thank our customers, school administrators, teachers, parents and students for making Hannaford Helps Schools an important part of their fund-raising efforts.
See what store your school is registered with. Download Registered Schools List (PDF) >>
Want to see how well your school did in 2017? Download the results (PDF) >>
Hannaford awards $1,000 to the school that raises the most funds in each community!
Check out the 2017 bonuses here. Download the results (PDF) >>

If you have questions, please call us at 1-800-205-7839.