Now you can shop and add products to your shopping lists, find recipes, get coupons, and make special orders right from the palm of your hand.

Your flyer, your shopping list, your recipes – it's everything you love about hannaford.com, now in a mobile site for your smartphone.
There's no app to download! Just go to hannaford.com
on your phone.
Weekly ad

Check out the weekly flyer and
add items to your shopping list.

Shopping lists

Create multiple shopping lists and check off the items while you shop. Can't get to the store in time? Send your list to a friend or family member's phone and recruit help.

Easy-to-find recipes

Find delicious recipes at your fingertips, add ingredients to your grocery list, and shop on your way home.

Gift cards

It's easy to buy gift cards and send them right from your phone.

Store locator

Find a store near you and map it. Get the hours, phone number, pharmacy phone number and list of store services.

Party platters & custom cakes

Select your platters and design your cake, place your order 48 hours in advance, and pick it up the day of your event.
FAQs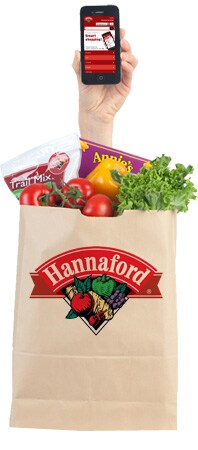 If someone adds an item to my shopping list from a desktop, laptop, or mobile phone, will I see it?
Yes, the item is added automatically. Just press the "GO" button located next to your shopping list name for it to refresh with the new items.
How do I use coupons from my phone or tablet?
While using the mobile site, you have access to all the same coupons that are on the full site. You can save them to your shopping list and print them later from a computer.
How do I order gift cards on the mobile site?
You can order new cards and give them as gifts from the mobile site by following the instructions on the gift card page. If you want to check your gift card balance or reload your card, you must go to the full site. Select "Full Site" located in the footer of every page on the mobile site.
Can I order special products like deli platters, custom cakes, shrimp rings and specialty cut meats?
Yes. You can look for them in each of the department categories, or you can find them all listed in one place by choosing "Products," then "In-Store Pickup." Just follow the online instructions for placing your order at least 48 hours ahead, and you can pick up your items on the day of your event.
How do I log out of the mobile site?
Choose "More" at the footer of any page; then select "Sign Out."