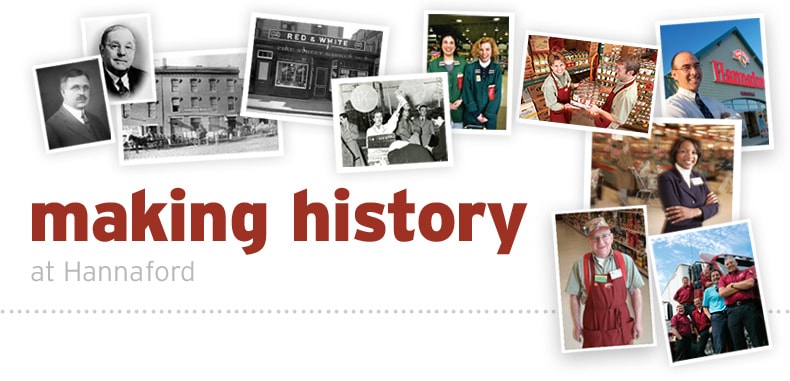 1883

Arthur Hannaford sells high-quality fruits & vegetables from a one-horse produce cart on the Portland, Maine, waterfront.

1902

Hannaford Bros. Co. is incorporated under the leadership of Arthur's brothers, Howard and Edward.

1920

A leading produce wholesaler in Northern New England, Hannaford relocates to a five-story, state-of-the-art warehouse on Cross Street in Portland.

1929

Hannaford begins a long-standing partnership with the United Way; in 2007, associates raise and donate more than $1.8 million to help fund United Way programs.

1939

Hannaford expands into the wholesale grocery business with the purchase of H. S. Melcher Co., parent company of Red & White stores throughout Maine.

1944

Hannaford ventures into retailing for the first time under a unique equity partnership arrangement with William T. Cottle, owner of Cottle's Supermarkets.

1955

Continuing a strategic shift from wholesale to retail, Hannaford merges with T. R. Savage Co. of Bangor, laying the groundwork for future retail expansion in Northern Maine.

1960

To service an expanding retail business, Hannaford opens a modern 200,000-square-foot warehouse in South Portland, Maine; Walter Whittier is appointed president of the company.

1966

Hannaford's retail presence in Maine continues to grow with the purchase of the 31-store Sampson's supermarket chain.

1967

Hannaford purchases specialty foods distributor Progressive Distributors, based in Winthrop, Maine.

1971

Hannaford has 59 supermarkets in Maine, New Hampshire and Vermont and 43 wholesale accounts; earnings top $1 million. The company goes public; Jim Moody is appointed president of the company.

1973

Hannaford opens its first Wellby Drug Store.

1982

The Hannaford Trucking Company is established to supply Hannaford's growing retail business.

1984

Hannaford opens its first Super Shop 'n Save, adding pharmacy services to the company's supermarket format. Hugh Farrington is appointed president of Hannaford Bros. Co.; Jim Moody is named chairman of the board and CEO.

1987

Hannaford expands into New York and Massachusetts; sales surpass $1 billion.

1990

Hannaford purchases the eleven-store Alexander's chain in New Hampshire.

1992

Hugh Farrington becomes CEO; sales surpass $2 billion. The Wellby Drug Store chain is sold to focus on adding pharmacy services into the company's existing supermarkets.

1994

Hannaford acquires Wilson's Supermarkets, with twenty stores in North Carolina and South Carolina; begins development of Strategic Information Process (SIP) – an innovative, computer-based decision support system.

1995

Hannaford expands in the Southeastern U.S. The company purchases six Farm Fresh stores, opens Superstores in five new markets in North Carolina and Virginia and builds a new 431,000-square-foot warehouse in Butner, N.C.

1996

The company changes the name of its Shop 'n Save private-brand label to Hannaford brand.

1997

Sales exceed $3 billion. The company changes the name of its supermarkets from Shop 'n Save to Hannaford throughout New York State.

1999

Hannaford announces its acquisition by Belgium-based Delhaize Company, joining a $14-billion global food retailer.

2000

The acquisition by Delhaize Company – soon to be renamed Delhaize Group – is completed; Hannaford is now part of the fifth-largest food retailer in the United States, with 1,400 stores from Maine to Florida. Ron Hodge is appointed president and chief operating officer; Hugh Farrington remains CEO and is elected vice chairman of Delhaize America in the United States. Hannaford introduces a new prototype supermarket in Falmouth, Maine, as well as the company's first smaller-format 35,000-square-foot store in Milton, N.Y.

2001

Hannaford acquires five Grand Union supermarkets in New York. The company changes the name of its supermarkets from Shop 'n Save to Hannaford in the Portland, Maine, market. Ron Hodge is appointed CEO; Hugh Farrington is named Delhaize Group executive vice president and is elected to board of directors of Delhaize Group.

2002

The company changes the name of its supermarkets from Shop 'n Save to Hannaford throughout Maine, Massachusetts, New Hampshire, and Vermont.

2003

Total sales grow by an impressive 7.3 percent over the previous year. Hugh Farrington retires after 35 years of dedicated service.

2004

Hannaford acquires nineteen Victory Supermarkets in Central and Southeastern Massachusetts and Southern New Hampshire.

2006

Hannaford opens fourteen new stores, the most in a single year by the company; expands pharmacy service to 120 stores; announces the landmark Guiding Stars program, a store navigation system that makes it easy to find foods with more nutrition.

2008

Hannaford celebrates its 125th anniversary.

2009

Hannaford has 167 stores and 27,000 associates.

2009

With nearly two decades of environmental stewardship and extensive progress on recycling, reducing waste, and rethinking construction, operations, and transportation processes to lessen our impact on the environment, Hannaford opens its first LEEDS Platinum-certified supermarket in Augusta, Maine. Click here to learn more about what we are doing today.