{"dragByHandle":true,"dragByBody":false,"cssSelector":"ql-thumbnail","widgetClass":"OverlayWidget","bindings":{"bind0":{"element":".ql-thumbnail .Quicklook .trigger","type":"quicklookselected","fn":"function(){$.fnProxy(arguments,\'#headerOverlay\',OverlayWidget.show,\'OverlayWidget.show\');}"}},"effectOnHide":"slide","effectOnShowOptions":"{}","effectOnHideOptions":"{}","closeOnBackgroundClick":true,"effectOnShowSpeed":"1200","onScreenPadding":10,"allowOffScreenOverlay":false,"captureClicks":true,"effectOnShow":"slide","effectOnHideSpeed":"1200"}
Sustainability

Sustainable Seafood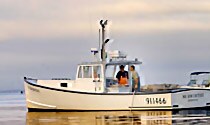 At Hannaford, seafood is fished or farmed in a way that ensures it will be around for generations to come.
Learn more
The promises we make every day
Look around a Hannaford Supermarket for a moment. Consider the farmers and their fields and orchards, our suppliers and their factories, Hannaford associates and you and your family. We are all connected. We are all linked by a shared concern for our earth and a desire to care for the diverse bounty it provides.
At Hannaford, we celebrate and honor this bond, because it brings us together as a community. That's why we work every day to make certain that what you find in our stores — from the foods we carry to the services we offer — demonstrates our care for this connection and our stewardship for our planet's natural resources.
Sustainability Progress Report
Hannaford places commitment to sustainability and healthy communities at the center of our strategy. We are pleased to share with you an in-depth look at our sustainability progress in 2015 across all operations.
See the full 2015 Sustainability Report here.