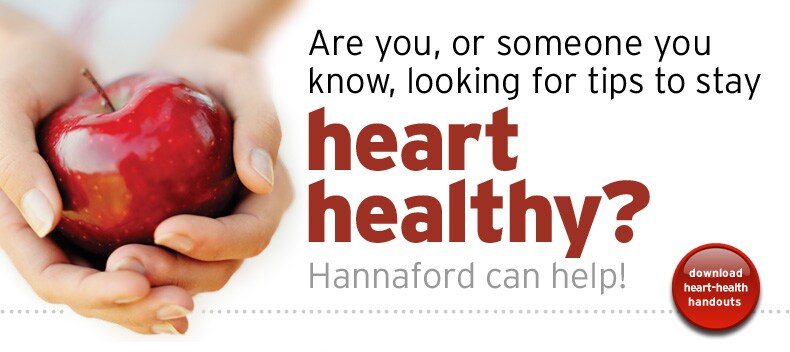 Nutrition and lifestyle changes can make a huge difference in your heart health. And Hannaford has some unique ways to help making healthier choices easy.
Follow the stars
Use Hannaford's Guiding Stars® system in-store and online to help you quickly find more nutritious foods that you need to meet heart-healthy goals that your doctor may have recommended for you. Items that earn Guiding Stars have: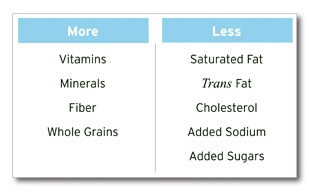 Shake the salt habit!
One of the first and most important heart-healthy changes you can make is lowering your sodium intake. The daily amount of sodium recommended by the American Heart Association is 1500 mg (about 2/3 of a teaspoon of salt). Most of us get far more sodium than that in our daily diet. Here are some ideas to get you started:
Look for lower-sodium Hannaford store brands.
Many of our store brands have lower sodium than their national brand counterparts, and we're focusing on lowering the sodium levels on even more of our store brands in the coming months.
Cook your own meals.
Fast foods are often extremely high in salt, but fresh foods can be low in sodium, delicious, and easy to make. Check out these ideas:
Marinate your chicken breasts in lemon, orange juice, or red wine (alcohol will burn away once cooked).
Use rubs and spices instead of salty marinades when grilling.
Use lots of onions and garlic when cooking – they add lots of flavor plus contain cancer-fighting properties!
Simmer carrots or roast sweet potatoes or squash with cinnamon and nutmeg for a delicious, salt-free side dish.
Toss your pasta with roasted or freshly chopped garlic.
If butter is a "must" for a recipe, replace salted versions with unsalted butter.
Try using a commercial salt replacement, such as Mrs. Dash® or McCormick® Perfect Pinch® salt-free seasonings.
Use spices in place of salt for flavor.

Spice it up!
Sweet spices
Use sweet spices (cinnamon, ginger, nutmeg, allspice) to spice up fruit and cooked cereals. Ground nutmeg, allspice, and cinnamon can all add a wonderful flavor to breads and muffins.
Italian seasonings
Marjoram, oregano, thyme and basil (terrific fresh!) are great in Italian dishes, soups or sauces, meat stews, and in bean dishes.
Licorice flavors
Fennel, caraway seeds, dill, anise and tarragon are delicious in rye bread, tomato sauces, beans and lentil soups. Try dill on salmon – delectable!
The onion family
Garlic, chives, shallots, leeks and scallions all add flavor to dishes. Chives and scallions add a milder flavor and are easy to use and delicious even raw (top baked potatoes, add to chili). Leeks and onions are delicious in soups. Caution: Often, both dried onion and garlic (i.e., garlic powder, onion powder) are heavy in sodium. When using these in the powdered form, be sure to check the label!
Peppers
Black pepper often goes hand in hand with the salt, but give this one a try alone. It has a delicious, strong flavor – grind it fresh to bring out its best. Cayenne, chili, and bell peppers in colors like red, green and yellow are all part of this family. Cayenne is definitely the hottest. Use it sparingly to add a punch to your meats, soups, sauces, chili, seafood, and Mexican and Louisiana dishes.
Many of our stores have registered dietitians offering free demos and classes.
Hannaford has an expert dietitian available online to answer your questions.
Featured heart-healthy recipes
| | | | |
| --- | --- | --- | --- |
| Apple Cinnamon Cobbler | Baby Spinach and Orange Salad | Bean and Macaroni Soup | Marinated Lamb Chops |
| Beef and Couscous and Butternut Squash | Cajun Stuffed Peppers | Chicken Cacciatore | Speedy Salmon |
| Chicken Tostada | Dijon Wine Steak Kabobs with Mushroom Wild Rice | Delicious French Fries | Spinach Vegetable Dip |
Heart-Healthy Menu Ideas
Breakfast

Oatmeal, skim milk, raisins
High-fiber Kashi® 7 Whote Grain Flakes® cereal, skim milk, fresh berries
Cream of Wheat Whole Grain® cereal, skim milk, banana
Low-fat egg-white omelet with vegetables, melon, whole-grain toast
Lunch or dinner

Whole-grain pita pocket with veggies, Cabot® reduced-fat cheddar, orange
Grilled boneless, skinless chicken breast; steamed asparagus; baked sweet potato
Broiled salmon, spinach salad, whole-wheat roll
Vegetable stir-fry with brown rice
Snacks

Unsalted nuts or almonds
1/2 cup low-fat yogurt,
1/2 cup veggies and salsa
Low-fat cheese and whole-grain crackers
Hummus with whole-grain pita
12 best low-sodium choices:
Brown rice – cooks easily in a rice cooker
Colored and whole-grain pastas – usually have no added salt; add fiber to your meal
Flavored vinegars – come in fun colors; add a lot of flavor with no sodium
Fresh fish – quick cooking; no added sodium
Frozen artichokes – all the flavor of fresh artichokes without the added salt of canned versions
Frozen beans – black-eyed peas and lima beans are cooked without added salt
Frozen vegetable mixes – many flavor varieties and all the convenience of canned without the added salt
Fruits & vegetables – naturally delicious and salt-free
Nut butters (without salt)
Oatmeal – cooks quickly, and you don't need to add salt
Perfect Portions
One of the easiest ways to promote heart health is by eating the appropriate portions of nutritious foods.
Visit www.choosemyplate.gov to learn about the building blocks of a healthy diet.
Use the following guidelines when building your healthy plate:
1/2 cup fruit or vegetable
Fits in the palm of your hand or the size of a baseball.
3 oz. meat
About the size of a deck of playing cards or cassette audiotape.
3/4 cup cereal
About the size of a woman's fist; cereal that fills 1/2 a standard cereal bowl.
1 cup green beans, broccoli or other cooked vegetable
About the size of a lightbulb.
1 1/2oz. cheese
About the size of 4 stacked dice.
1 med banana
About the size of an eyeglass case.
2 tablespoons butter or peanut butter
The size of a golfball.
1 slice of bread, 1/4 regular bagel, or 1/3 cup of cooked rice, cooked pasta, or cooked cereal
About half the size of a baseball.
3 oz. grilled fish
The size of a checkbook.