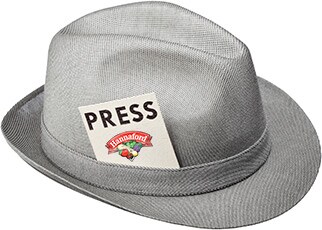 PRESS KIT
Media resources, logos & more
Hannaford Supermarkets, based in Scarborough, Maine, operates over 180 stores and employs more than 27,000 associates in Maine, Massachusetts, New Hampshire, New York and Vermont. Our stores offer good prices and value; top-quality fresh foods supported by daily deliveries; and friendly, efficient service.
Most Hannaford locations have full-service pharmacies, and all stores feature Guiding Stars®, an easy-to-use navigation system to help customers easily find foods with good, better or best nutritional value. Each store also provides a large selection of natural and organic products, many of them supplied by local farms through our Local program. In 2008, Health magazine named Hannaford among the top-ten healthiest grocery stores in the United States.
We are known as a responsible corporate citizen. In 2009, our Cony Street store in Augusta, Maine, became the first supermarket in the world built to the highest standards of the U.S. Green Building Council: Platinum LEED (Leadership in Energy and Environmental Design). In addition, for the past three years, we've been the only food retailer recognized by the National Business Group on Health as a platinum employer for encouragement of healthy lifestyles.
---
Media Contact
All media inquiries should be directed to the Hannaford Media Relations Line at 207-885-3132.
---
Logos
---
Background Information
Hannaford has a long-standing reputation for innovation. Here are just a few examples of key programs and initiatives:
Guiding Stars®
Guiding Stars, the nation's first storewide nutrition navigation system, helps busy shoppers quickly identify foods that offer the most nutrition for the calories. Using a shelf-tag rating system of 0 to 3 stars, Guiding Stars is objective and science-based. We rate virtually all the edible items in our stores, making nutritious choices easier for customers and their families. Learn more
LEED Store
Our Cony Street store in Augusta, Maine, is the world's first supermarket built to the highest standards of the U.S. Green Building Council: Platinum LEED (Leadership in Energy and Environmental Design). Some of the innovative features at the 49,000-square-foot store, which opened in July 2009, include:
a state-of-the-art GreenChill refrigeration system, which uses 50 percent less refrigerant gas than a traditional system
doors on nearly all freezer and refrigerated cases, which save energy and create a more comfortable in-store temperature
water from two geothermal wells, located 750 feet underground, to help regulate the building's temperature
Local
We love local, and we know you do, too. Our local farmers and producers make life better for our communities, and help preserve thousands of acres of farmland. Hannaford is committed to carrying local products made or grown in the states we do business in, and we're bringing in more local products every year. Learn more